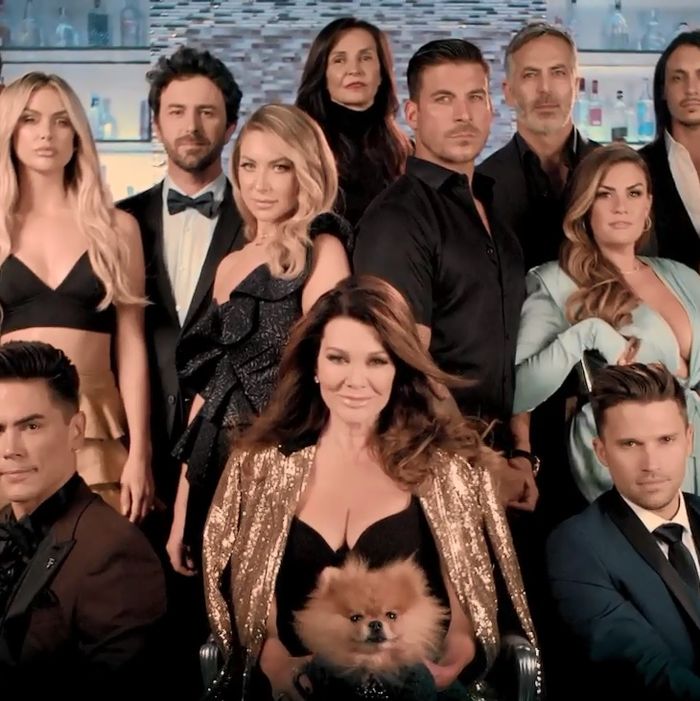 Vanderpump Rules is back, for better or for worse, and on Thursday, E! News posted a trailer for season eight, which is set to premiere on January 7.
As even the most casual Vanderpump scholar might expect, the promo is full of drinking, yelling, angry finger-pointing, and accusations of infidelity. It also includes four new cast members, a development which can either rejuvenate a reality show, or serve as its death knell. After years of mental, emotional, and spiritual investment into the lives, loves, and cocktail-fueled battles of one set of SURvers, are we ready to open our hearts to a whole new crew?
We'll have to wait to January to find out. Until then, we can occupy ourselves by spending time in quiet, solitary contemplation, meditating on these, some of the trailer's most haunted moments.
The spookily remixed theme song
Since the beginning of time (2013) every episode of Vanderpump Rules has opened with a snippet of Dena Deadly's "Raise Your Glass." "You know that it's our time," Deadly sings. "These are the best days of our lives. Just raise your glasses high. This one's for you tonight."
It is already, in the best of circumstances, a very spooky intro. Are these — the days spent watching a young woman fight with her older bartender boyfriend about whether he impregnated a woman in Las Vegas — truly the best days of our lives? This is it?
In the trailer, though, the "Raise Your Glass" intro has been slowed way down, so you know that this season is super dark and serious.
Lisa's little vest-and-tie combo
Uh-oh. Instead of her usual pink busty shift dress or pink pussy-bow blouse, sexy unique matriarch Lisa Vanderpump is wearing what appears to be a bedazzled server's uniform. Have things gone so awry in the Vanderpump off-season that Lisa is now serving cocktails in an Atlantic City casino? Will she have to sneak away on her breaks to record her testimonials from behind a Baywatch-themed slot machine this season?
The flashback to Katie's blonde hair
In some ways, those were simpler times, but in other ways, they were more complicated, because Katie's hair shafts were being decimated in front of our eyes, and her stylist picked a color that got brassy very quickly. Also, this was the season Tom threw a drink on Katie outside of a bar in Mexico. Dark times.
Kristen making this face
In unrelated news, Kristen is the author of the upcoming self-help book, He's Making You Crazy, which is "the ultimate guide to owning your 'crazy' and never giving up on love."
Whoever this guy is
According to E!, this new cast member's name is "Brett." According to me, he is very hot, and could potentially be the new No. 1 guy in the group. No one tell Jax.
Whoever this woman is
Apparently her name is "Dayna." I don't know who the woman on the phone screen is.
Whoever this guy is
Apparently this man's name is "Max." He is interested in "Dayna" but was also maybe hanging alone with that blurred woman on the phone screen. Do we care about this drama? Can it compare to the time Jax and Kristen cheated on Stassi and Sandoval respectively by doing it on the couch while Drive was on? We'll see.
Beau made the opening credits!
But poor Raquel did not.
This shot where Tom is swinging a pocket watch and Ariana is pouring some sort of dry-ice cocktail
They have the energy of a couple you met on a cruise who seem cool at first but then one night they start getting super touchy and flirty and are like, "Actually, we're looking for a third …" and when you demur, Tom does a close-up magic trick and is like, "Does this change your mind?"
Also "Brett," whoever he may be, continues to be very hot.
Best of all: Brittany in her wedding veil, collapsing onto a pizza box
I can't wait for my terrible, dysfunctional family to return.