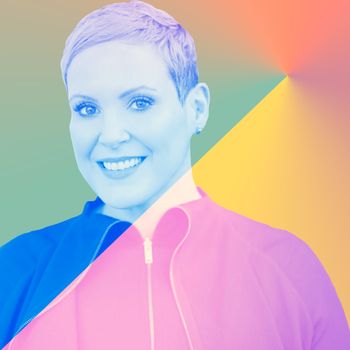 Photo: Courtesy of W3LL PEOPLE
Her smile lights up a room is a terrible cliché, but in Shirley Pinkson's case, it's warranted. Pinkson's smile emits happiness, and maybe a secret or two, and every time I meet up with her, she's wearing it, full blast.
Maybe it comes from a childhood habit of adapting quickly to new situations; Pinkson grew up moving every two years, thanks to her dad's job in the military. More likely, though, it's because the co-founder and chief product officer of W3LL PEOPLE is doing exactly what she wants to be doing.
It all started back in 1988 at UT Austin, where Pinkson, James Walker, and Renee Snyder met. The three became fast friends and remained so, even after Pinkson transferred to UT San Antonio. There, she had a part-time job at the Body Shop at the North Star Mall. When a friend who worked across the way at M.A.C noticed her interest in makeup (not a Body Shop specialty), he suggested she apply there. He gave her an overnight crash course in makeup application and she got the job.
She stayed with M.A.C for eight years, then moved to Dallas, where she also moved to NARS, which moved her to New York, where she ultimately became global director.
Meanwhile, Snyder had become a dermatologist, while Walker, after working in advertising in New York, had moved back to Austin and opened his own agency. One of his clients was Whole Foods, and as he went through its beauty and body offerings, he saw an opportunity.
"James suggested creating a clean makeup brand," Pinkson remembers. "I said, 'If it can perform as well as the makeup in my kit, I'm onboard. But if we can't succeed on the performance end, then no.'"
The three reunited in Austin in 2006, and over margaritas, they hatched their plan. Pinkson came up with the products, Snyder vetted the ingredients, and Walker oversaw the brand image. Two years later, W3LL PEOPLE launched with six products.
"When we started, I had to explain to the consumer what parabens and mineral oil were and why we shouldn't be using them," she remembers. "Today, I'm excited about how knowledgeable the consumer is, but I worry we'll end up confusing them with too much info. We need more legislation here. It's very clear in Europe, where we're currently registering the brand. It's no fun, but I love it. They are very clear in their stance on ingredients. You don't see that here in the U.S."
Pinkson spoke with the Cut about her carbonated guilty pleasure, the annoyance of cheap perfume, and how no amount of blush is never enough.
What's your definition of beauty? Self-acceptance. To see a person who is confident and comfortable in their own skin is to see beauty.
What do you think when you hear the term "clean beauty"? Beauty made with your health in mind.
Where, if anywhere, in your beauty routine (or life) are you not quite that "clean," "green," or "sustainable"? I still enjoy the occasional Diet Coke.
Please fill in the blank as it pertains to your beauty or wellness routine: I think about _____ a lot. Sleep (or my lack of).
What is the opposite of "beautiful"? Someone or something that is unkind.
What is your morning skin-care routine? Marie Veronique Vitamin C facial serum, Goop eye cream, my W3LL PEOPLE Bio Tint SPF 30, my Nudist Multi-Use Stick in Nude Berry, and the Expressionist Pro Mascara if there is time. I get my 3-year-old to school and promptly return to the office with a disturbingly large coffee in hand.
What's the last beauty product you use every night? Cannuka CBD Healing Skin Balm.
Who makes the best eye cream? Kahina Giving Beauty.
Who makes the best retinol product? Marie Veronique. For sure.
What aspect of your beauty routine tends to be neglected? I give my face and hands loads of attention. The less "tight" parts of my body seem to be neglected (or ignored) a bit.
What, if anything, is usually on your lips? W3LL PEOPLE Afterglow Lipgloss.
What shade, if any, is usually on your toes and/or hands? Super-dark gray or burgundy.
What makeup item would you never skip? Blush.
Facial cleanser of choice: Odacité Matcha Cleanser.
Fragrance of choice: D.S. & Durga I Don't Know What.
Bath or shower? Shower, with Osmia Oh So Soap Bar.
What discontinued product do you mourn? W3LL PEOPLE Universalist 7 in Peony.
What was your first beauty-product obsession? When I was 13, I'd sneak my Cover Girl eye-shadow quad into school where my friend Kathleen and I would stripe its blue and gold and shades on our eyelids. No neutrals in that palette!
Daily carryall of choice: Tumi backpack.
Eyeglass frames: My two favorite pairs are Christian Roth and Round10.
How do you like your living room? Cozy.
What do you splurge on? Shoes and food.
What is your classic uniform? Black or gray jeans, a soft, worn sweatshirt and Velcro Veja sneakers.
Current favorite fashion item in your closet: Rag & Bone biker boots.
What do you own too many of? Crystals (at least my wife thinks so).
What color is your usual fashion pop of color? Gold.
When you check into a hotel room, what's the first thing you do? Check out the bathroom.
What is your own personal definition of misery? Self-pity.
What is your own personal definition of glee? A delicious meal with someone I love.
What would the name of your autobiography be? If This Smile Could Talk. I have a smile for every situation and emotion.
Who would play you in the biopic? Sarah Paulson.
Favorite smell? Campfire.
Least favorite smell? Cheap perfume.
What do you think Pantone's color of 2020 should be, and why? Navy blue — representative of unity, truth, power.
What do you most often disagree with others about? Why does everyone want so much? Less is always more.
What can't you leave alone? Badly blended makeup.
Favorite cheese: Camembert.
Most impressive dish you make: Sunday morning pancakes.
What do you foresee as the top beauty trends for 2020? And please explain. Brands that keep sustainability top of mind will win and inspire. We see the spirit of individuality and change showing up with simple, yet bold statements balanced with clean, bare skin. You'll see sparkle, geometric liner, and vibrant pops of color on lips and eyes. Oh, and mascara. BIG, gorgeous layers of mascara.
What product in your domain is misunderstood and should be a best seller? We recently discontinued our Blue Expressionist Pro Mascara. The shade was electric, but once swiped on the eye, it became this gorgeous deep-denim shade that popped in the sunlight. This hint of blue brightened and enlivened all eye colors. I was super bummed to see it go.
What product is currently your favorite (understanding that this could change all the time)? In 2020 we are launching our High Vibration Cream Complexion Trio: two blushes and a highlighter. I love blush — lots of blush. This trio has two hyperpigmented, long-wearing blush shades coupled with a superfine highlighter that takes your glow to the next level. I've already blown through my lab sample!
If you won the Powerball tomorrow, what are the first five things you would do (after, of course, donating the majority of it to your top charities)? Pay off my mom and dad's house, take care of schooling for my boy and his cousins, buy a compound in New Mexico … and call it a day.