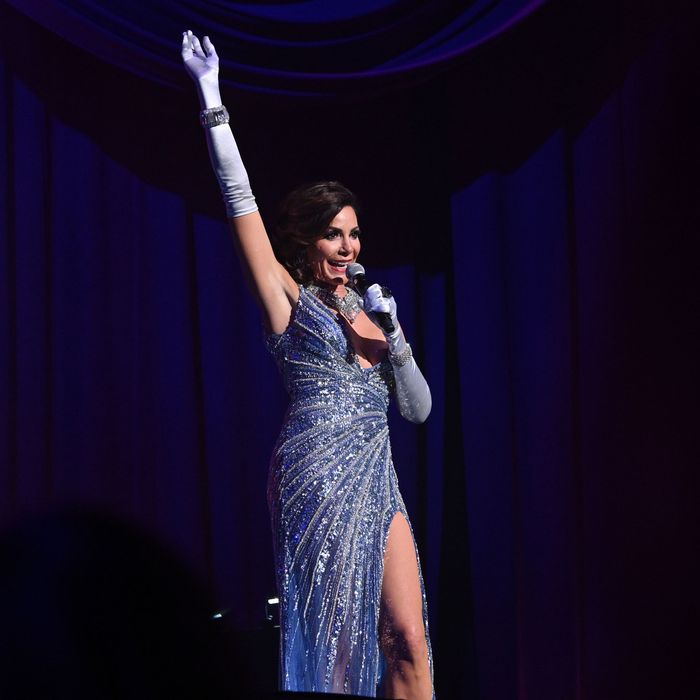 Photo: Bravo/NBCU Photo Bank via Getty Images
The basic tenets of the cult of Bravo are as follows:
You love reality TV. You roll your eyes at the question, "But what do these people … do?" because yes, some of them are waiters, contractors, swimwear designers, and owners of lipstick brands, wine labels, and hair extension companies, but mostly they just do whatever, and you get to watch. You relate to story lines about divorce and depression as much as you like living aspirationally through six-figure parties and five-figure pairs of sunglasses. It is a profound pact you make with Bravo stars to care about what they do, and they, in turn, continue to do things like have screaming fights in restaurants called The Quiet Woman, or undergo vaginal resurfacing on camera.
Bravo created a new paradigm for ensemble reality shows 15 years ago, with the 2004 premiere of Real Housewives of Orange County. It has since expanded to multiple cities and to an entire multi-verse of other shows. Fans have long flocked to a handful of sacred sites around the country where singles have been dropped and wigs have been pulled, but they were given their first real opportunity for pilgrimage this weekend at the inaugural BravoCon fan convention in New York. It was a feast for the senses, a vacation for the mind, and an assault on my liver.
For three whole days at midtown's Manhattan Center, thousands of Bravoholics, as they are known, got to meet their favorite stars and think and talk about nothing but this strange network of people famous for being themselves. "People love to judge human behavior. This is sociology," Andy Cohen, Bravo's former VP of original programming who has become the face of the channel, told me on Friday night. But as Sarah, a 24-year-old nurse from Nashville also said, "At the end of the day, I just don't want to think, you know?" And who does? Which is another promise you make whenever you begin your Bravo journey: don't try to think too hard about why you love this.
Friday, November 15
The women waiting in the Grand Ballroom of the Manhattan Center, a hulking, eight-story theater venue and event space on 34th Street, are in full Housewives cosplay: fur vests, chokers, suede hats, animal print, sparkles, Gucci belts, big barrel curls, smoky eyes, November tans.
I'm wearing a black turtleneck and black jeans like a French person, or a stagehand. People keep coming up to ask me for directions. A man who says he "literally ran" from Penn Station and is frantically searching for his wife asks me to watch his suitcase and Men's Warehouse garment bag.
But I want everyone to know I'm one of them. When a compilation video of beloved Bravo stars' best moments plays on a large screen, I laugh loudly and knowingly at the right moments. I think I understand what it's like to be a Scientologist now, the rush of serotonin you get when you're in a club of like-minded souls speaking gibberish. Downstairs in the women's bathroom, an entire wall says "Pat the Puss," a nod to a dance move popularized by a Real Housewife, in which she gestures to her crotch while subtly gyrating. It feels special to share a language even while peeing. Andy Cohen finally jogs onstage for the weekend's first big event: a panel of original Real Housewives cast members called OG Housewives, who are no longer with us. (They're not dead, they're just not on television anymore). The crowd erupts in the thunderous stomping of heels and high, pealing screams. Andy tells us we are now all best friends. We all agree together in a beautiful chorus.
After their panel, the OGs answer questions from fans, who get on the mic to say that their shows helped them get through break-ups, family dramas, chemotherapy. Then the stars pose for photos on either sides of the stage, in a kind of rapid fire fan conveyor belt. While watching, I get to hold a Pomeranian belonging to Jill Zarin, a former Real Housewife of New York, named Bossi. Jill tells me to follow Bossi on Instagram.
Jenn, a 30-year-old from Delaware in a sparkly jacket, shows me what's in her Super VIP swag bag, including a red State Farm nail polish and a shirt that says "I need my own Bravo show." We all wear wristbands denoting what class we're in on the Bravo Titanic: General Admission, VIP, or SVIP, which costs $1,500. She tells me about a notorious fan who quit his job to stalk Housewives full time, and I vow to find him. I meet two academics from Southern California who have a podcast on which they discuss Bravo shows "with a historical twist": "For example, how some of the wealth on Southern Charm [a show about people living in Charleston] is derived from slaveholders," they explain.
I make my way up to the VIP open bar upstairs. It's called the Shahs Lounge, in honor of a show about wealthy Persian friends living in Los Angeles. There, I meet a mother-daughter duo from Tennessee who bought the SVIP package so that the daughter could meet Shep Rose, noted playboy and star of Southern Charm. "I'm trying to hook them up," the mother winks, swinging her cashmere cape. They are drinking vodka sodas, the Bravo Kool-aid.
We are eventually greeted by Bravolebrities (this is the catchall term for Bravo stars) stopping by the lounge in between events. Many of their faces are covered in a powdery, smooth layer, like the surface of an expensive cake. It's surreal to see them walking around and interacting, until you remind yourself that they are, in every other aspect, normal people. Colin, for example, a star on a show about people who work on luxury yachts called Below Deck, is a working ferry captain in Long Island. "I'm in heaven," a girl clutching an Angry Orchard says after taking a selfie with him.
The day's panels and photo-ops are building up to a live taping of Andy Cohen's talk show Watch What Happens Live in the Hammerstein Ballroom, which will squeeze more Bravolebrities onto a single stage than ever before. All three levels of the ballroom, which seats 2,500, are full; it feels like we are in a Bravo megachurch (especially given the whiteness of the crowd). Caterers are serving rosé flavored Pepsi, a special sponsored collaboration for the weekend, which tastes like bubblegum, and Pepsi. When the show starts, Cohen introduces over seventy stars from various shows, who all sit on stage together in a taut, glittering choir.
A woman in front of me turns around. "This is the best day of my life," she says, tears in her eyes. She points at a friend: "She said this was better than the day her daughter was born."
Saturday, November 16
By mid afternoon on Saturday, the avenues-long stretch between the Manhattan Center and a second set of event spaces further downtown is full of women merrily laden with Bravo products. On 11th ave they mingle with young men carrying plastic swords from nearby AnimeCon at the Javits Center. Members of both groups wear capes. I arrive at the Bravo bazaar, a living mall of Bravolebrities hawking their wares. For fans who couldn't get a picture at a photo-op, it is a selfie opportunity (that also requires them to buy a $16 mug).
Luann de Lesseps, a New York housewife who used to be a countess, is there selling novella candles with her face on them. Zarin, her fellow Housewife, is posing with fans in front of an American flag that is actually an outdoor rug from her rug line. I meet a sweet middle-schooler named Tim who says he spends his allowance on Real Housewives DVDs (I'm about to ask him where he gets DVDs when his mom tells him he has to go). Finally, I find the Housewife stalker, a man named David Yontef, who I have learned is also notorious on certain Bravo fan Facebook groups. He confirms that, yes, he sold his tech recruiting company to fund his stalking lifestyle. "I will literally get on a plane, meet one, and fly home," he says. He estimates that he has spent $250,000 over the last few years. Now he has a podcast and has become friends with some of the women, though he still does things like wait outside of restaurants for the ones who don't know him.
Outside, two caterers, Tucker and Kevin, who are passing a vape between them, tell me they've never watched Bravo. "It's not like Brad Pitt's in there," Tucker says. "When the countess chick came in there they were dying, bro!"
The second night's major activity is a party to celebrate Vanderpump Rules, a breakout spin-off about hot people who work in a restaurant owned by Lisa Vanderpump, a former Real Housewife of Beverly Hills. The Hammerstein Ballroom has been decked out like a giant West Hollywood club, complete with cash bar.
When the cast arrive, they are largely confined in an opera box, which creates a wild frenzy of thousands of fans jockeying for photos. "Are they ever gonna come down? I wore my wig," a girl with giant blonde waves and a bodycon dress says wistfully. I get into the Bravolebrity section, where Vanderpump hands me her phone so that she can grab fans' cell-phones, tossed up from below, to take a selfie and send back. I make my exit when someone spills Pinot Grigio on my shirt.
Sunday, November 17
I wake up with shin splints and my feet hurt. In the SVIP lounge, I run into the girl from last night, who slept in her wig because it's glued onto her head.
This morning I'm attending "Dorobics," an aerobics class taught by Real Housewife of New York Dorinda Medley. It's the most joyful, buoyant event of the weekend, and my blood, congealed with rosé Pepsi, is pumping again. Andy joins Medley in short shorts and sends the crowd wild when he bounces through to the Pointer Sisters' "Jump for My Love." It is extremely ridiculous, and I leave feeling energized and centered.
But others are getting a little restless today, the last day of BravoCon, including the talent. Shannon and Braunwyn, two Housewives of Orange County, hop on a table at the Bravopalooza Brunch for a sporadic dance before being hastened down by more Bravo handlers. And the crowds are rowdier. An NBC bodyguard says a fan threatened to fire him if he did not get out of her photo. At the "Men of Bravo" panel, a woman asks Austen, a cast member on Southern Charm, "I DMed you last night, why didn't you respond?" Other fans ask questions that take too long, and people yell, "Wrap it up!" When their photo-op is cut short, Craig from Southern Charm and Jax and Tom (Schwartz) from Vanderpump Rules valiantly dive into the crowd for renegade selfies, sending Bravo publicists scrambling. Security guards eventually intervene. "These are our fans, are you fucking kidding me right now?" Craig shouts bravely as he is escorted away.
The final event of the weekend is a concert given by Countess Luann, who has released a few singles over the years and is touring with her cabaret show. She's an hour late. Production sends out a comedian to warm up the crowd by taking questions from the audience, which quickly devolves into pandemonium. "Some of us have jobs to go to!" someone shouts over Frank Sinatra. A woman says she thinks the SVIPs should be "grandfathered in" next year, and the crowd boos, making me wonder if there will be a BravoCon class war. When a man (perhaps the most interesting Bravo fan in the world) stands up and says, "I love New York and I just want to say … Jeffrey Epstein didn't kill himself," the Q&A is suddenly shut down.
The Countess finally arrives and says she was told the event started at 9pm, and she hates being late (she came on at 9:30). She eventually serenades her remaining fans with her clubby hit "Money Can't Buy You Class," to which it is physically impossible not to dance. When it's over, a wave of relief and sadness, seems to ripple through the crowd, which streams out of the ballroom doors into the cold. Fans who met at the con hug and promise to stay in touch. "What a shitshow," one of my new friends says. I ask if she would do it again.  "Of course," she says, instantly. "See you next year!"