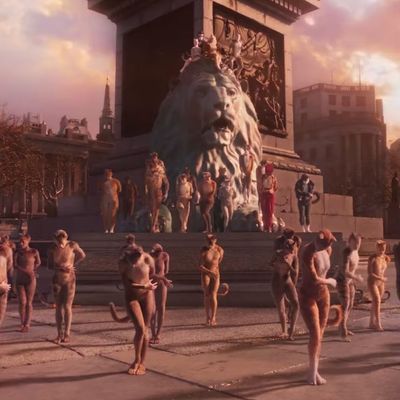 Photo: Universal Pictures/ Youtube
Today, a new trailer for CATS dropped, derailing any number of work days and personal projects. There's a lot going on here (for instance: cat boobs), and I'll leave most of it for other people to talk about. The most pressing issue, to me, is: What size are these cats?
It keeps changing, and I'm not sure any of the sizes are right.
Here we see a top-hat-clad cat in a cat door, which you'd think would be an opportunity to showcase a cat at its natural size. Instead, this cat looks very tiny. Even standing straight up, he can comfortably clear the doorway.
Using context clues, we can see here that this cat, when fully extended, is roughly the size of three ingredient jars stacked one on top of another. So, 15 inches, maybe? Proportionally it looks smaller, though. This is still too small for a cat.
If your staircase can comfortably fit three cats dancing side by side, with room for at least two more, you either have a very large staircase, or three very tiny cats.
Here are the cats in London's Trafalgar Square, looking very much the size of human beings. Too big! What is going on?
This is close-ish to correct, at least as far as how I understand a real-life cat fits on a real-life human's bed. (I'm a dog person, honestly.) But still a little small.
Now the cat's paws are the size of a foot belonging to a heel-curious 4-year-old? So the cat is the size of a human child now?
Maybe this is how they get you: you have to watch the full movie to learn the Cats' true size.