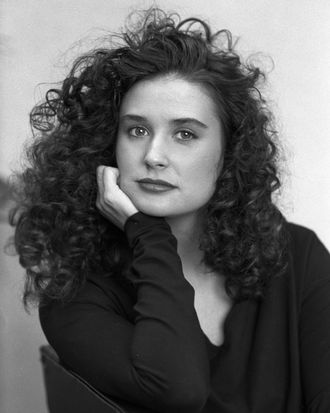 Demi Moore
Photo: Copyright (c) 1988 Shutterstock
As a celebrity-gossip monster, the minute I heard that Demi Moore was coming out with a memoir I immediately knew I needed to read it. This need became more and more urgent as the Daily Mail began rolling out headlines promising enticing gossip about Moore's exes Bruce Willis and Ashton Kutcher, and doing whip-its while her daughter was watching. But while Inside Out satiated my gossip needs and wants, it also ended up speaking to me in an entirely unexpected way.
Of course, what I don't know about Moore could fill a book, and what I do know has largely been gleaned from watching her movies, reading about her in gossip mags, and being jealous of her hair for at least 15 years. But Moore also delves into the complicated family dynamics that brought her into this world as the daughter of a pair of young parents who moved Moore and her younger brother around a lot. After her parents' relationship dissolved, helped along by their respective drug and alcohol problems, Moore ended up under the sole guardianship of her mother, a bipolar addict.
Inside Out certainly isn't the first celebrity memoir to really go there — think Anjelica Huston and Gabrielle Union — but the way in which Moore makes sense of her abusive childhood feels different. Moore became her mother's caretaker as a child, and her memoir doesn't shy away from the ugly innards of the relationship: She recounts sticking a finger down her mother's throat to prevent a suicide attempt, being raped by a man who claimed her mother "whored" her out to him for $500, and feeling constant anxiety about not knowing what her mother would do next. It's one of the most relatable depictions of motherhood I've read. Moore's anxiety about not knowing which mother she would come home to, not knowing if she'd be expected to care for her, is one that I know all too well. These experiences had a lasting emotional effect: Moore writes, "If I didn't have that uneasy ache, that prickly anxiety around someone, how would I know it was love?" Such childhood experiences inevitably affect relationships later in life. It would be easy for Moore to go down the path of resentment and anger, wallowing and lamenting. Yet she doesn't do that.
Moore could have written something hokey or forced about her relationship with her mother, but her forgiveness never feels cloying or resolute. She recounts realizing that her mother had never emotionally grown past being a teenager and feeling pity for her. "I'd managed to move to compassion and that transition had liberated me," she writes. Moore's peace seems hard-won, the result of some combination of maturing, going through therapy, developing her spirituality, and maybe even getting plenty of Los Angeles sun. But as someone without that kind of resolution just yet, I found reading Inside Out nourishing, a new perspective on how to deal with my own complicated feelings about my relationship with my mother. Instead of getting the celeb tea that I wanted, I got something much more profound. It might be a bit silly, but if Demi Moore could do it, maybe I eventually can, too.