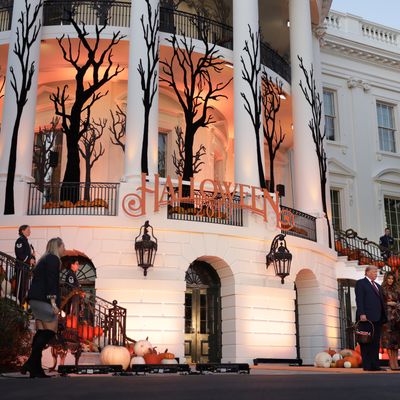 Photo: Alex Wong/Getty Images
As if celebrating Halloween at the White House wasn't scary enough, children who attended a party there on October 25 were encouraged to participate in a "build the wall" mural.
As reported by Yahoo News, the kids were told to write their names on brick-colored paper cards, which were then taped to a wall located on the first floor of the Eisenhower Executive Office Building. Photos acquired by Yahoo show dozens of red cards with the names of the children blurred out. As for whose dumb idea this was, it remains unclear. A spokesperson for Vice-President Mike Pence said that each office in the building put up decorations, including one next to the "Build the Wall" that was construction-themed and had a sign that read "Trump's Crew." Also, scary.
The party was attended by families of executive-branch employees as well as VIP guests, but apparently not every partygoer agreed with the décor. "Horrified. We were horrified," one anonymous attendee told Yahoo. Others didn't think it was a big deal. "Everyone loses their minds over everything, and nothing can be funny anymore," a Trump administration worker said.
Ben Rohrbaugh, who served as the Border Security director in the White House National Security Council when President Obama was in office, told Yahoo News that the wall was a "gross thing" to have kids do. "To the extent it's a representation of an actual wall on the southwest border, the kids have made nearly as much progress as the president has since 2017."
Immigration activists also criticized the border-wall display, pointing out how insensitive and inappropriate it was. "I don't think they understand the amount of pain that people are going through at the border for them to make a joke out of it," Erika Andiola, the chief advocacy officer for RAICES, said. "We still are dealing with children in cages even if people are not calling it that, so it's not a joke."