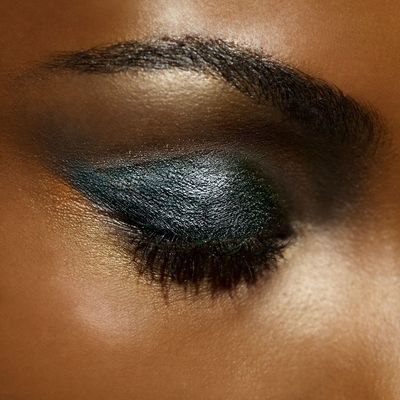 Photo: GNL Media/Getty Images
On New Year's Eve, we drink Champagne and wear glitter. It's tradition, like starting all your New Year's resolutions next week. (It just makes more sense to start them on a Monday.) Makeup artists agree — when the Cut reached out to ten of them for their favorite easy New Year's Eve look, every single one picked a glittery eye shadow.
It's easy to see why — sparkle has maximum impact and little effort and you don't need to be a makeup artist, a Euphoria teen, or have watched any YouTube tutorials to make it look good. Here are the ones they've deemed effortless, so very shiny and longwear — from the one that will match your drink to the one that will make you want to put on your disco playlist.
If You Want to Look Like a Hot Witch
"This silky metallic finish adds drama to the eyes, and it's so easy to use," says makeup artist Nick Barose, a favorite of Lupita Nyong'o and Gugu Mbatha-Raw. "Just swipe it on upper lids and you get that creamy, shiny disco look. It's also longwear, so it's perfect for dancing all night. My favorite shade is 37, a deep emerald green that looks great with a deep plum or fuchsia lip." (It also happens to be a great dupe for the eye shadow seen on The Witcher.)
If You Want to Try Euphoria Makeup
"Adding a touch of glitter for New Year's Eve feels festive and in the mood!" says Jamie Greenberg, whose clients include Kaley Cuoco and Lizzy Caplan. "I've been using Lemonhead glitter for years, and their Spacepaste isn't too chunky; it glides on over your eyeliner on your top line or along the lower lash line, too. I'm obsessed with the shades Houdini and Mulholland." (It's also the glitter makeup of choice for Euphoria.)
If You Want to Look Like Liquid Champagne
"This cream shadow is easy to use, and its shades work well on all skin tones," says Maria Riskakis, whose clients include Halston Sage and Olivia Culpo. "I like Jean (a Champagne pink), Marie Antoinette (an oyster gold) or Bette (a true, soft amber-gold). You can apply it with your finger or a brush, and layering is easy for a more intense look."
If You Want to Look Sparkly But Not Precious
"This is a sparkly sort of dirty gold," says Dick Page, a favorite of Sofia Coppola who recently did the makeup for the Hermès spring 2020 show and Valentino's Resort campaign. "It's great buffed over a base of dense black pencil or by itself with a load of black mascara. Or, better still, mix it with gloss or grease for a wet metallic finish. I do love a shiny disco, dolly eyelid."
If You Want Poolproof Makeup
"I dab this into the center of the eyelid over any eye shadow I'm using," says James Kaliardos, whose clients include Hillary Clinton and Miley Cyrus. Kaliardos used First Time, a shimmery pewter, on Cyrus for her "Slide Away" video. "It's a very out-of-this-world look," he explains. "Plus, it stays on. We shot that video in a pool, and it lasted into the night."
If You Just Want a Little Gold Dust
"I like to add gold sparkle over eye shadow, and this formula does it without spilling all over the place," says Benjamin Puckey, whose clients include Solange and Christy Turlington. "Just tap it on the lid or just on the inner corner of the eye with your finger."
If You Want Something Goofproof
"This is great not only as a highlighter, but I like to light up the inner corner of my eyes with it — it gives a subtle twinkle," says Nam Vo, whose clients include Kylie Jenner and Chrissy Teigen. "You don't have to be a skilled makeup artist; it's so goofproof. Just use your fingers, and it blends into the skin magically."
If You Also Want Your Look to Benefit Endangered Species
"For bold eyes, I love using these shadows, wet or dry, to create a multidimensional finish," says makeup artist Vincent Oquendo, whose clients include Diane Kruger and Catherine Zeta-Jones. "The shimmery rich taupes, golden coppers, and burnished browns are a part of Chantecaille's current philanthropy collection."
If You Want a Little Bit of Everything
"I love that there are mattes, shimmers, and sparkle all in the same palette, so you can keep the volume low or turn it all the way up," says Romy Soleimani. Her clients include Cara Delevingne and Lucy Boynton.
If You Want a Disco Eye
You know exactly what you're getting with this shadow, thanks to the name. Christian McCulloch, whose clients include Drew Barrymore and Christina Aguilera, says, "I like to use this alone, but it also adds some extra oomph over a neutral shadow. The gold dust layers well over other shadows, if desired, for an extra kick."
If you buy something through our links, New York may earn an affiliate commission.