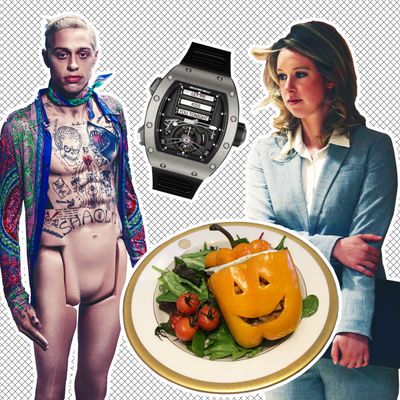 Photo: Clockwise from top left: PAPER Magazine/Tommy Dorfman; Richard Mille; Justin Sullivan/Getty Images; @tcberenson/Twitter
The functional definition of "cursed" has changed over the course of the 2010s. Cursedness shed its superstitious connotation and moved into meme territory around 2015 when "cursed image" began to refer dark or unsettling photos: a moldy MacBook keyboard, a ziplock full of ravioli on a duvet, a cereal bowl full of milk and thumbtacks, etc.
But as the New Yorker recently pointed out, it's evolved into a sort of catchall word for moments that tap into our collective feeling of "anxiety and malaise." The cursed thing will still make you feel uncomfortable, but not necessarily nauseous; disturbed, but in a way that's more uncanny than upsetting.
Under this latest definition, 2019 was the most cursed year of our decade. Here are some of its most profoundly cursed moments:
Jeff Bezos's sexts
Sexts between Jeff and his mistress, Lauren Sanchez, leaked a day after Bezos announced his divorce from wife MacKenzie. Potentially written by Alexa, they were deeply cursed:
"I want to smell you, I want to breathe you in. I want to hold you tight.… I want to kiss your lips…. I love you. I am in love with you."
And the kicker:
"I love you, alive girl. I will show you with my body, and my lips and my eyes, very soon."



Drake's horny watch
The rapper showed up at a basketball game this summer wearing a $750,000 "erotic watch" which generates endless horny phrases for its wearers. Drake set his to: "I'd love to kiss your pussy."
Kylie Jenner's Handmaid's Tale party
The only thing more dystopian than Margaret Atwood's novel about baby harvesting and forced surrogacy is Kylie Jenner using it as a theme for a party in Calabasas. For the event, Jenner decorated her driveway like a birth canal and shrieked "PRAISE BE, LADIES!" as guests arrived.
When Elizabeth Holmes showed up to court with barrel curls
The dark moment when the Theranos founder swapped her frayed, damaged, bleached-blonde hair for caramel pageant curls.
The first Cats trailer
The moment when digital fur technology went way too far and also made cats with boobs.
This pic of Jared and Ivanka
A sick and haunted image.
When we found out Marianne Williamson refers to herself as a "Bitch for God."
Yeah.
This "Meal" Served on Air Force One
The second Cats trailer
See above.
When we found out that Hailey Bieber's wedding dress had "Till Death Do Us Part" embroidered on it's train
Hailey wore a nice white lace dress with a swooping back to her wedding to Justin Bieber. It's a classic silhouette, but we soon found out that designer Virgil Abloh couldn't help adding a "personal touch."
Pete Davidson as depressed Ken
Davidson recently posed as a dead-eyed, pill-addled Staten Island Ken Doll for Paper Magazine. Pete as "depressed Ken" was, in fact, depressing.
When Elon Musk Crashed His Toy Truck Into A Pylon Outside of Nobu
With Grimes and Ed Norton in the car.