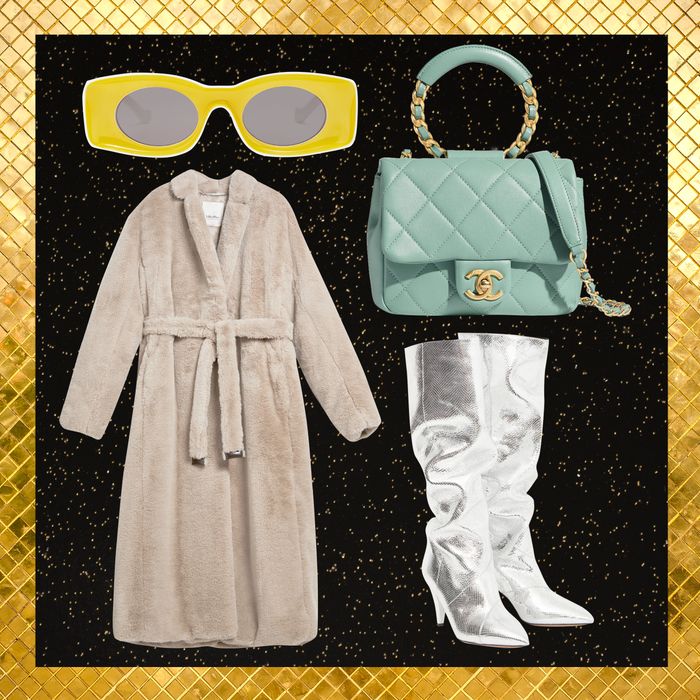 Photo: Courtesy of the Retailers
What do you buy an influencer for the holidays? Thanks to Instagram, it's easier than ever to tell which designer items are the most desirable. Below, we've pulled together a guide to the flashiest, stuntiest, and most luxurious pieces of the season, from the most over-the-top (a fuzzy Fendi bucket hat) to the more understated (an oversize Jil Sander trench coat). Come along with us, pretend money is no object, and take a tour through all the best gifts for fashion people.
The Trendy Hat
Shades of chocolate brown always look rich and luxurious together (okay, the Fendi logos kind of help with that too).
The Updated Classic
A quilted handbag is a Chanel staple, but the circular top handle, small size, and mint-green color all make this one a bit more trendy.
The Flashy Coat
Putting together a good look only to cover it with a drab coat — is there anything more nightmarish for a lover of fashion? A simple solution is getting a coat that will turn heads, too.
The Square-Toe Heel
Under designer Daniel Lee, who's relatively new there, Bottega Veneta has become such a hit that there's a fan-curated Instagram page with a giant following. His accessories are especially popular, like these square-toe shoes that not only look good but give your toes room to breathe.
The Breakfast at Tiffany's Headband
Ariana Grande is the new face of Givenchy, which is trying to bill her as a sort of modern Holly Golightly. Couldn't you see Holly or Ari in this pearl headband?
The Espionage Coat
Wearing a stand-up collar this high is a total power move.
The Edgy Jewelry
Because you are a lavish punk who wears an 18-karat white-gold ring that looks like a nail.
The Patchwork Cardigan
This Gucci grandpa sweater is right off its Cruise 2020 runway. Pair it with virtually any solid-color bottoms you have.
The Funky Sunglasses
These sunglasses were everywhere at all the Fashion Weeks. Take any outfit to the next level with them.
The Status Smell
The Vampy Earrings
These dangly earrings aren't for the faint of heart.
The Milkmaid Dress
As prairie dresses make a slow exit, they're being replaced by dresses with deep, Renaissance-style décolletage. An all-black interpretation like this one keeps the look from being too costumey.
The Incredibly Trendy Bag
Buying something because other people have it usually isn't a good reason to drop serious cash. That said, if you want to look like the coolest people downtown, you might need this bag.
The Baller Necklace
Want to remind everyone that you're fancy? Casually wearing an 18-karat gold chain around your neck is one way to do it.
The Grungy Boots
These shoes are perfect for the grunge revival but are updated with refined elements like soft leather, an understated lug sole, and antiqued-brass logo details.
The Princess Sweater
As part of the return of the Renaissance, pearls are on everything from barrettes to shoes. This pearl-adorned baby-pink sweater from Miu Miu will make you look like royalty while keeping you cozy.
The Metallic Boots
With a low heel and shiny silver snakeskin-print leather, these Isabel Marant boots are surprisingly easy to walk in and look extremely cool.
The Party Pajama Pants
Never forget that pajamas look extremely cool at parties.
The Hoops With Some Oomph
Bulbous details add some visual interest to the usual hoops.
The Seductive Blouse
Wearing anything Saint Laurent makes you feel like a sex goddess, so adding a leopard print to an already sensual silhouette is absolutely deadly.
The Leather Watch
Not everything in your outfit has to steal the spotlight.
The Parisienne Dress
French brand Chloé is beloved by fashion girls and celebs alike for its romantic designs, like this flowing dress that's one of its signatures.
The Tie-dye Sweater
A lot of tie-dye comes in pastel shades, but the bold colors of this sweater make it feel a little more sophisticated.
The Oversize Trench
As the saying goes, "the bigger the better," and this oversize trench coat is no exception.
If you buy something through our links, New York may earn an affiliate commission.