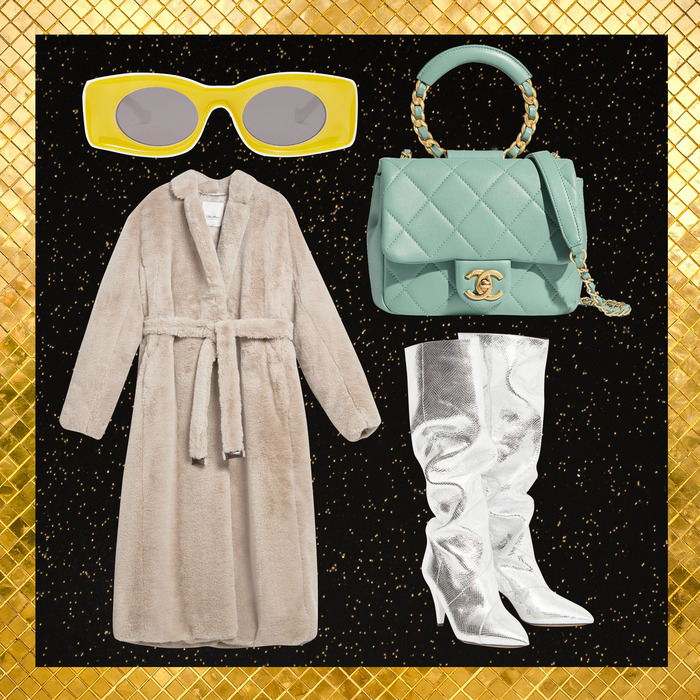 Photo: Courtesy of the Retailers
What do you buy an influencer for the holidays? Thanks to Instagram, it's easier than ever to tell which designer items are the most desirable. Below, we've pulled together a guide to the flashiest, stuntiest, and most luxurious pieces of the season, from the most over-the-top (a fuzzy Fendi bucket hat) to the more understated (an oversize Jil Sander trench coat). Come along with us, pretend money is no object, and take a tour through all the best gifts for fashion people.
The Trendy Hat
The Updated Classic
The Flashy Coat
The Square-Toe Heel
Bottega Veneta Stretch Pumps in Mesh and Berry Calf
Under designer Daniel Lee, who's relatively new there, Bottega Veneta has become such a hit that there's a fan-curated Instagram page with a giant following. His accessories are especially popular, like these square-toe shoes that not only look good but give your toes room to breathe.
The Breakfast at Tiffany's Headband
Givenchy Ariana Headband in Pearls and Crystals
Ariana Grande is the new face of Givenchy, which is trying to bill her as a sort of modern Holly Golightly. Couldn't you see Holly or Ari in this pearl headband?
The Espionage Coat
The Edgy Jewelry
The Patchwork Cardigan
The Funky Sunglasses
Loewe Paula's Original Sunglasses
These sunglasses were everywhere at all the Fashion Weeks. Take any outfit to the next level with them.
The Status Smell
Celine Saint-Germain-des-Prés Eau de Parfum
The Vampy Earrings
The Milkmaid Dress
The Incredibly Trendy Bag
The Baller Necklace
The Grungy Boots
The Princess Sweater
The Metallic Boots
The Party Pajama Pants
The Hoops With Some Oomph
The Seductive Blouse
The Leather Watch
The Parisienne Dress
The Tie-dye Sweater
The Oversize Trench
If you buy something through our links, New York may earn an affiliate commission.