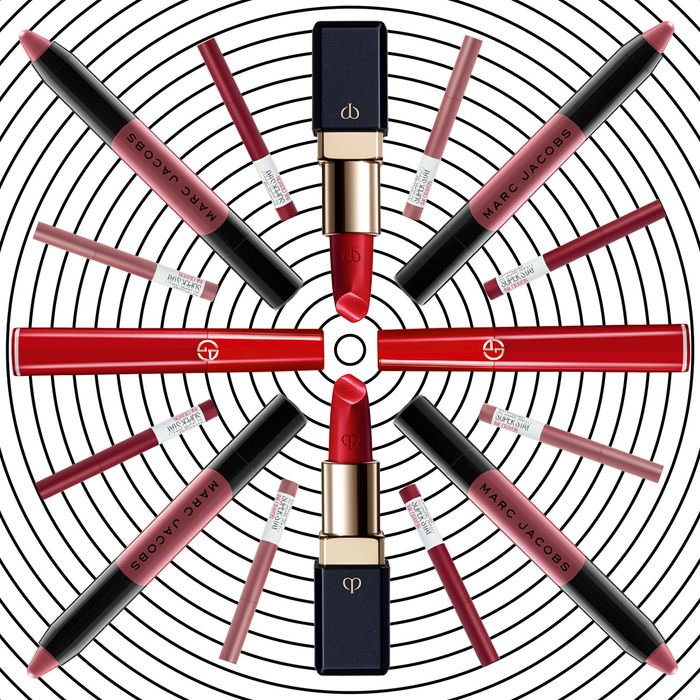 Photo: Courtesy of the Retailers
It's not over quite yet! Your holiday season to-do list has more parties to attend, crunchy snacks to eat, and cocktails to drink. Your companion in these adventures, if you so choose, is a festive lipstick that's easy to apply and that will look good for a long time. We asked seven makeup artists to share their pick for New Year's Eve lipsticks (which aren't all red) that will still look great at one or two in the morning. Here, their picks, including a happy red and the overwhelming drugstore favorite.
The One You Can Snog Through
"This is a pencil crayon, which I'm not usually crazy about. However, it's a solid plummy red that you tattoo on your lips and hope for the best as you drink and snog it off through the parties," says Dick Page, a favorite of Sofia Coppola, who recently did the makeup for the Hermès spring 2020 show and Valentino's Resort campaign. "I like it drawn on and rubbed in for a dense, opaque finish, although I don't like a sharp edge to it; so I buff out with a fingertip or Q-tip. It's also very good diluted with lip balm as a stain/tint."
The Buttery Velvet Red
"This is my favorite red for holiday. It's the red," says Nam Vo, whose clients include Chrissy Teigen and Kylie Jenner. "It glides on like buttery velvet, a creme matte, and looks beautiful on all skin tones and lasts all night."
The One That's Like a Humidifier on Your Lips
"My lips are always super-dry in the winter, so I love this because it's highly pigmented and super-moisturizing," says Romy Soleimani, artist-in-residence at Bobbi Brown and whose clients include Cara Delevingne and Alicia Keys. "I like to press it into lips with my finger for gorgeous hydrated color that has a sheen. Your lips will look like you are sleeping next to a humidifier. It's also great over a matte red like Bobbi's Luxe Matte lip color in Red Carpet or on top of a classic red matte lip like M.A.C's Ruby Woo. It wakes up the color!"
The Happy Shade
"This is a bright and festive red with a soft matte finish that suits literally every complexion," says Benjamin Puckey, whose clients include Lucy Boynton and Tracee Ellis Ross. "It feels creamy on the lips, never drying, and it will definitely last through an hors d'oeuvre–filled holiday party. I like to apply it straight out of the tube and then gently blend the color against the lip line with my ring finger really working it into the lip. I call it my "optimistic red," because there's something about this red that just makes you look happy!"
The Versatile One
"During the busy holiday time, I really enjoy using liquid lipstick formulations for their ease of use and versatility," says Kate Lee, Chanel makeup artist, whose clients include Charlize Theron and Jessica Chastain. "This is an intense color when you apply it right from the wand, or go even bolder and more glamorous by adding a transparent gloss over it. And if you're prefer a softer look, you can use your finger to pad on a small amount and make it more of a pinky stain. Whichever way you choose to wear it, it makes a nice change from red, which is usually the holiday go-to."
The Natural-Looking Neutral
"I'm leaning toward playing up more of an eye look and have the lip be more natural and defined," says Vincent Oquendo, the Shiseido global ambassador and Maybelline U.S. brand ambassador whose clients include Lily Collins and Maggie Gyllenhaal. "This lipstick has a creamy matte finish with up to eight-hour staying power, and this shade flatters a large range of skin tones. The deeper complexions can add a chocolate-tone lip liner to do that '90s Naomi lip, and the fairer complexions can forgo the lip liner because this holds its weight."
The Classic Nude
Photo: All Rights Reserved © SF Digital Studio, Inc.
"Everything's about a liquid formulation these days," says Christian McCulloch, who's worked with Drew Barrymore and Christina Aguilera, of this pencil/liquid pick. "This is a creamy, long lasting, sexy matte in a classic nude that you can just swipe across your lips and still get fabulous color payoff. It does seem to dry on lips like paint, so it will last through several parties and several hors d'oeuvres."
If you buy something through our links, New York may earn an affiliate commission.