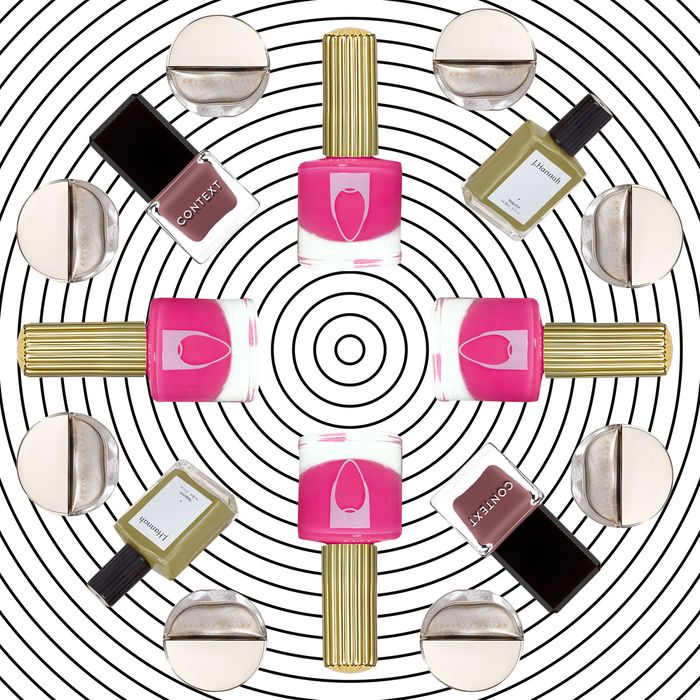 Photo: Courtesy of the vendors
If you've ever looked at a polish wall at a nail salon and thought, Boring, or, All these colors look the same, these nail shades relate. While the big nail-polish brands continue to dominate salons with their classic reds, nudes, and ballerina pinks, indie nail-polish brands have been doing basically everything else.
Brands like J.Hannah, Floss Gloss, and Holo Taco have been creating collections of weird, strangely pretty, and peculiarly beautiful shades that are also completely unique (and often glittery, shiny, and holographic). Here are nine of the best indie polish brands, featuring some colors so extraordinary that they could even deter a longtime nail-biter.
If You Can Remember All of Britney Spears's VMAs Outfits
If You Own a Pair of "Unflattering Pants"
This is the most "fashiony" of the indie brands, with an Instagram full of artful hand-posing straight out of a 1960s Vogue. The shades are arty colors that toe the line between looking ugly and cool, like the "ugly pants" of polishes. Many of the colors are a bit jolie laide — a dull sludge green called Eames, or a flat "savory" beige called Miso — but you'll know exactly who would love these polishes.
If You Like Tacos
Nail-polish YouTube's No. 1 personality, Cristine a.k.a. Simply Nailogical, took her love of holographic polishes and sparkle and created her own exuberant polish line. The colors are bold and zany, and all feature multiple sizes of glitter — she very much cares about you getting the most glitter bang for your buck. She also has a "Peely Base," a base coat that allows you to revel in the dirtbag joy of peeling off your nail polish (even glittery ones) — but in one fell swoop.
If You Think Black Isn't Just a Color, It's an Emotion
This brand is praised on nail-polish message boards and nail-polish YouTube for being a one-and-done polish, meaning just like early spring, all you need is one light coat. The high pigment load gives it a bit of a gloppier formulation, but it really lasts. The deep-black Memento Mori shade is even better and richer looking than Chanel's Black Satin, the OG color which kicked off the black nail-polish trend. It's particularly loved (and raved about on Amazon), because it has a multidimensional richness and glossiness that almost looks like it oozes.
If You Think Nail Art Is a True Art
This brand's Instagram is a soothing grid of tone on tones. Its polishes look luxurious (and they're priced that way at $30 a bottle), with magnetic Japanese bottles that soothingly click together (sort of like the way Fenty Match Stix do). The shades range from rich basic reds and a fresh white to a gold shimmer hue you'll want to drip all over your nail called Billions. Give this to the person whose Instagram looks like a color study.
If You Can't Find "It" Anywhere
The nail-obsessed community of Reddit's Laqueristas (they joke they sold the C to pay for polish) love this brand, whose moniker stands for I Love Nail Polish. The finishes are sleek, the glitters aren't chunky, and the chromes have an oil-slick-mixed-with-water vibrancy. If you've ever thought, I wish that was a nail polish, while staring at anything — it's most likely here.
If You Think Harry Potter Is Not Really "Fantasy"
This is the polish most likely to be worn by a fantasy-novel character. Most of the colors feature shiny finishes and shades inspired by otherworldly inspirations. If you've ever wondered what "Unicorn Blood" would look like, this is for you.
If You Despise Glitter
This is one of the Goopiest indie polish brands (and, in fact, it's sold there — and, yes, Gwyneth has a shade named after her). It prides itself on being "clean" and long-lasting, and the colors range from the bright and cheerful to the subdued and polished nudes. Even with over 150 shades, none of the colors get too weird, so it's a a bit like the Farrow & Ball of nail polish. If you think glitter or shimmer is "tacky," this is for you.
If You Like Mauve
There's something clean and modern about this line of polishes, which includes the classics — a beautiful red, a modern slate gray, but also some odder, uncommon and arresting colors for variety. The pop-'60s baby pink "Ain't Love Strange" and flat mauve "Slow Down" all make you take a second look.
If you buy something through our links, New York may earn an affiliate commission.