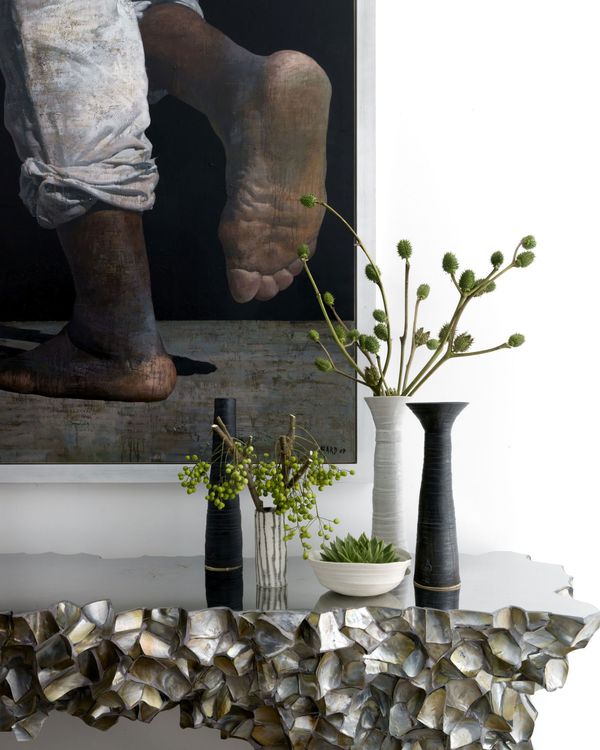 Running Man
by François Bard, 2007.
Photo: Simon Brown/Courtesy of the Crosby Street Hotel
The Crosby Street Hotel, a boutique space in the heart of Soho, manages to strike a balance of elegance and comfort that's rare in a world of anonymous Airbnbs. This is owed in large part to Kit Kemp, creative director and founder of Firmdale Hotels, who curated the art on display to be welcoming and interesting to guests. "If you are doing spaces and making them individual, you're making them into an adventure," she explains.
Kemp originally planned to center the hotel's art around the written word, but as she began exploring Soho, something else caught her eye. "I started noticing all the extraordinary dogs around there, and I was thinking, Where do all these dogs live?" The result: a canine motif.
Kemp hand-selected art to both inspire visitors and make them feel at home. "You're not seeing it in a gallery setting," she says. "The setting is a living space, a living environment. It can give you ideas on how to hang your own art. We're very democratic in how we hang art because you'll get an art student's work beside somebody who's very well known."
Below, a selection of featured work, with insight from Kemp on why each piece was chosen.
This arresting Botero statue has now become a defining feature of the neighborhood. "He should make you smile before you even get through the door, said Kemp." She had wanted a Botero ever since she saw his pieces on Park Avenue. Kemp remembers telling her husband that Botero's sculptures are "New York sized." Now, Crosby the Cat is one of the hotel's most well-known artworks.
White Head by Jaume Plensa was one of the first pieces that Kemp chose for the hotel. The large sculpture is made of painted white steel letters. It's the first thing you see when you walk in the lobby. "What I loved about it was that it had enormous presence, but also it was see-through, so it's not a really heavy piece within that lobby area," Kemp said. "I'm very excited by Jaume Plensa's work, I think he over-scales things, but at the same time, there's that lightness about it."
There are four François Bard paintings, two of which depict his dogs, Simone and Paulette. "I love his work because it looks like he's done a lot with that paint; there's so much piling on it," Kemp said. The two dog paintings are in the drawing room just off the lobby, which is inviting, warm, and oozes a sense of quirky comfort. Kemp explained that the high ceilings in the drawing room are what allow her to have such large pieces, since they might otherwise feel like too much.
Arguably the hotel's most mesmerizing piece, A Million Times 135 is tucked away from the hustle and bustle of the lobby. Two artists born in 1982, Bastian Bischoff and Per Emanuelsson are known for their boundary-pushing installations, often featuring everyday items like these moving clocks. "You're not aware of it, but then suddenly when you start looking at it, there are these wonderful patterns of all the clocks working together," said Kemp. "Then suddenly, it stops at the time. And I thought in this area, which is basically a spill-out area, you just had to have something which was slightly mesmeric, which made you stand and look for more than a second."
In the same area as A Million Times 135, Kemp has included photographic paintings by Peter Rocklin of scenes around New York City. "We invited him to come over to Soho and then to sort of choose things around the area that suddenly took his imagination," said Kemp. Since these paintings are so specific to the neighborhood, Kemp says that sometimes, people will recognize the scenes or people that Rocklin depicts.
Luckily, you don't need to stay at the Crosby Street Hotel to see Kemp's mind at work. The hotel regularly offers ticketed "art walks" led by painter Lyora Pissarro.