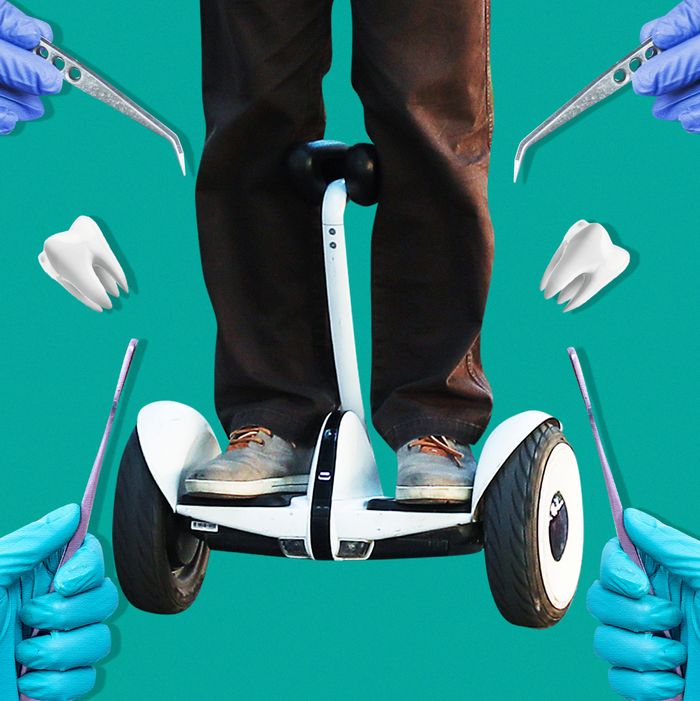 An "unlawful dental act."
Photo-Illustration: Getty Images
And now, we present the most unhinged tooth crime of the decade, possibly the century: Unauthorized hoverboard dentistry, three words you probably never expected to see used in a sentence. And yet, an Alaska man went to trial this week on charges of (among many other things) "unlawful dental acts," stemming from an incident that allegedly occurred in July 2016. That's when authorities believe our embattled dentist sedated a patient and then — without informing her of his plan — hopped on a hoverboard, before pulling one of her teeth.
This is just one of the 40-plus violations outlined in a 2017 lawsuit against Seth Lookhart, 34. Prosecutors believe Lookhart committed felony Medicaid fraud, erroneously billing the state $1.8 million for sedation procedures, while also funneling upward of $250,000 away from Alaska Dental Arts and into his own pocket. But truly the most stunning detail of all is the hoverboard.
Testifying at Lookhart's trial on Wednesday, the alleged victim of these "unlawful dental acts" — Veronica Wilhelm — said that she had absolutely no idea Lookhart had extracted her tooth while hanging loose on his weird wheelie footboard, until investigators got in touch. To her surprise, Lookhart had recorded the tooth wrenching while she was sedated, and sent the video to his friends. In texts, he allegedly described this maneuver as his "new standard of care." Yet had Lookhart pitched her on the whole hoverboard thing beforehand, Wilhelm explained, according to CNN: "I would've said, 'Hell no!' No, that's unprofessional. It's crazy."
Despite video evidence of the stunt, Lookhart — whose medical license has obviously been suspended — pleaded not guilty on all counts. At trial, his attorney apologized for his client's alleged idiocy, describing it as a "terrible lapse in judgment" that did not quite rise to the level of a crime. Wilhelm, whose son Lookhart is also said to have sedated for a routine teeth-cleaning, felt differently.
"I don't have anything bad to say about you taking out my tooth, I appreciate that, but I just think that what you did was outrageous, narcissistic, you know, and crazy," she told her former tooth custodian at trial. "I forgive you for all of that, but there's obviously a high-priced lesson that you're going to have to learn."