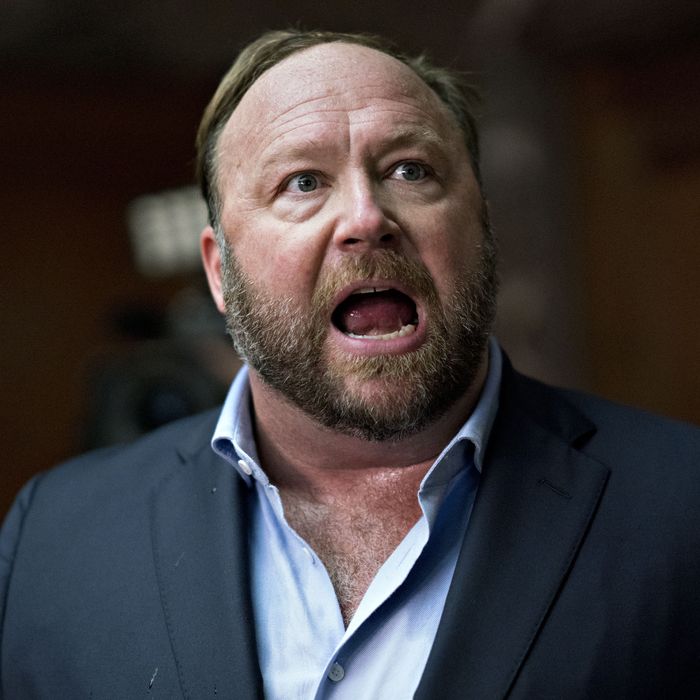 Photo: Andrew Harrer/Bloomberg via Getty Images
Alex Jones, a very rich man and disgraced conspiracy theorist, has been ordered by a Texas judge to pay $100,000 in court costs and legal fees after being sued for his repeated claims that the 2012 Sandy Hook school shooting was a hoax. Jones allegedly lied to Infowars listeners, telling them that the Newtown, Connecticut, shooting, in which 20 children and six adults lost their lives, was a false-flag operation in which no one died.
Last year, Neil Heslin, Leonard Pozner, and Veronique De La Rosa, parents of young children who died in the shooting, filed two lawsuits against Jones and his company in Austin, Texas, where Infowars is based. The damages Jones has been ordered to pay are associated with Heslin's defamation case against him and his company. According to the Daily Beast, Travis County judge Scott Jenkins granted a motion to fine Jones $65,825 for ignoring a court order to procure necessary documents and witnesses, and an additional $34,323 to cover Heslin's legal fees.
Judge Jenkins said in court that Jones and Infowars's uncooperative approach to the case "should be treated as contempt of court." Additionally, he threw out Jones's motion to have the case against him dismissed. Heslin's lawyer Mark Bankston said in an email to the New York Times, "In disobeying court orders, Mr. Jones has shown how desperate he is to ensure nobody finds out how Infowars really operates, or the lengths the company went to carry out its five-year campaign of malicious harassment against these parents."
Bankston told the Times he expects a date for a defamation trial to be set before the end of 2020.