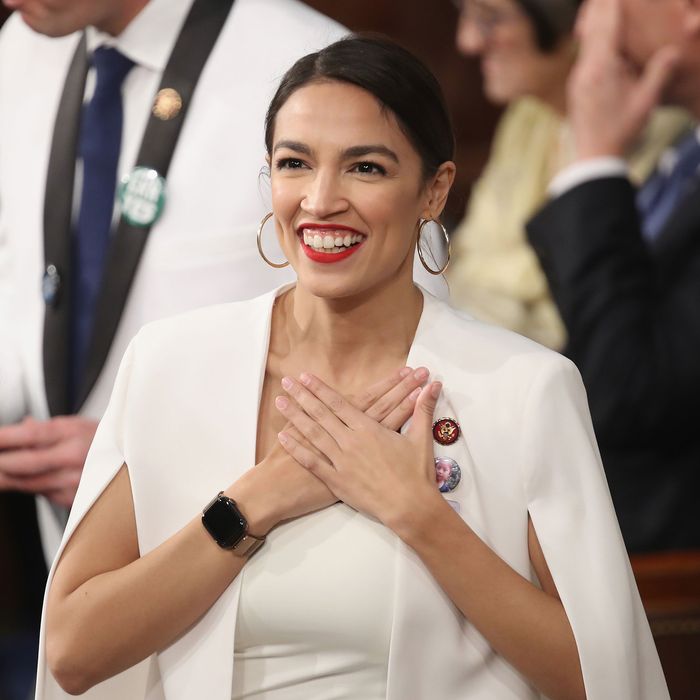 Photo: Win McNamee/Getty Images
Over the past year or so, Representative Alexandria Ocasio-Cortez has slowly released bread crumbs about her beauty routine. We learned she knows how to contour in the back of a car and how to bake her face, that she wears an unsmearable liquid lipstick and loves a good press-on nail. Recently, she threw us a sizable slice, one almost as satisfying as when she dropped her full skin-care routine.
Allure reports that, during at trip to Los Angeles in support of Bernie Sanders, AOC took to Instagram Stories to reveal 12 of the makeup products she packed for her appearances on the campaign trail. "It's all very DIY, especially if you're a woman running for office. You just have to learn how to do your own makeup, and I did it with lots of YouTube tutorials," she told the camera before revealing a flat-lay photo of her favorite long-lasting products, the ones that can survive really long days and extra-bright lights.
In the photo we can spot an Anastasia Beverly Hills brow pencil, a solo Fenty Beauty Match Stix, a Huda Beauty Easy Bake Powder, a Huda Beauty Double-Ended Shadow, a Glossier Haloscope, a Kat Von D Contour Palette, a L'Oreal Voluminous Lash Paradise Mascara, a Nars Tinted Moisturizer (with SPF), a more mysterious Nars compact, her signature Stila Stay All Day Liquid Lipstick in Beso, and two other facedown products that did not want to be identified at this time.
We know from her previous statements that AOC is very aware of double standards and would never wish a full face of makeup on anyone. But in case you're also a woman in the public eye who knows she's being judged under different rules than the men around her who need only ten minutes to look "presentable," having all these test-driven components laid out for you should. we hope, save you some time.
If you buy something through our links, New York may earn an affiliate commission.