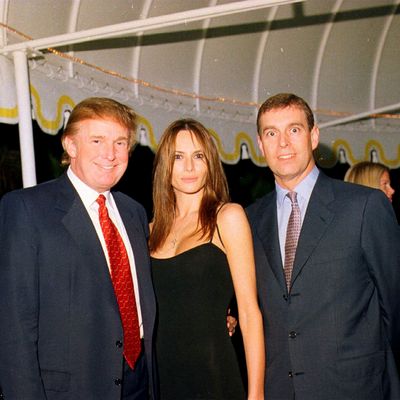 Photo: Davidoff Studios Photography/Getty Images
President Trump has spent decades surrounding himself with bad men, a fact he often attempts to downplay. Take Jeffrey Epstein, the deceased pedophile billionaire who was chummy with Trump in the '90s, as anyone with eyes could see — like in this video from 1992 where the two ogle women at a party. But Trump has denied ever having a friendship with Epstein, saying he "wasn't a fan." Now the president seems to be taking a similar tack with Prince Andrew, following the royal's recent public disgrace.
The Duke of York has recently come under intense scrutiny for his friendship with Epstein and years-old accusations that he had sex with a minor. After a disastrous interview last month — in which Prince Andrew issued a series of bizarre defenses and excuses, without expressing any remorse for Epstein's alleged victims — he relinquished his royal obligations. The palace has vehemently denied the allegations against Prince Andrew, but on Tuesday the New York Times described the scandal as the royal family's "worst public relations debacle since the aftermath of the death of Princess Diana in a car crash."
On Monday, the BBC aired an interview with Prince Andrew's alleged victim, Virginia Giuffre. Giuffre, who first made her accusations public in a 2015 lawsuit, reiterated her allegation that in the early aughts, when she was 17, Epstein coerced her into having sex with Prince Andrew on three separate occasions. The Times wrote that the Giuffre interview "drew another flood of revulsion from the British public" against Prince Andrew.
On Tuesday, during a trip to the U.K., Trump was asked at a news conference about his relationship with the royal pariah. Trump responded by saying, "I don't know Prince Andrew, but it's a tough story, it's a very tough story."
However, Trump's claims not to know Prince Andrew are dubious, given that there are pictures of Trump and the Duke of York together going back to 2000, when Andrew visited Mar-a-Lago. Epstein and his elusive associate Ghislaine Maxwell also appear in one photograph.
And there are many more recent photos of the two together during Trump's state visit to the U.K over the summer — a mere five months ago.
Trump's deflection isn't far off from Prince Andrew's, who when confronted with Giuffre's allegations claimed not to remember having met her, despite photographic evidence to the contrary.