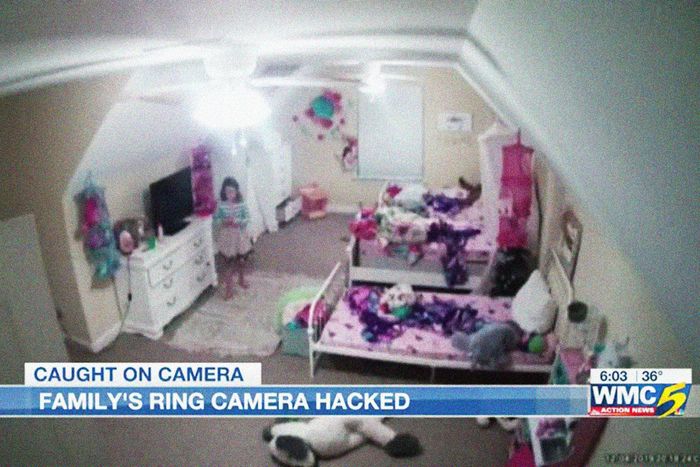 I can't stop scream-typing about these terrifying stories of men hacking into Amazon Ring home-security cameras, and using them to spy on, threaten, and taunt people IN THEIR OWN HOMES. But I will try.
Four incidents of Ring-hacking were reported just this week — and because Ring cameras recorded the interactions, each comes with a creepy, horrifying video of the encounter. In one, a Florida couple was hanging out on a Sunday night in their kitchen when their home-security alarm suddenly went off. Then they heard what sounds like a young man's voice speaking through their Ring camera.
In the video, a voice addresses the husband and wife directly before referring to their biracial son, who is not in the room, indicating that the person has been watching the family. "Is your kid a baboon, like the monkey?" the person asks. Then he attempts to coerce the husband to visit a URL, threatening him: "I will leave you and your family alone, or I could do this," he says, before turning on their alarm again. The husband refuses and pulls the batteries from the camera.
It somehow gets way worse: Elsewhere this week, a Ring camera was hacked in a children's room in Tennessee only four days after it was installed there. In harrowing video from the incident, someone begins playing a song with the lyrics "tiptoe through the window" through the Ring camera. After a little girl enters the room to investigate the noise, what sounds like a man's voice says, "I'm your best friend, I'm Santa Claus." As the child screams for her mother, he says, "Don't you want to be my best friend?" According to local news reports, the hacker played more music and "encouraged destructive behavior" before the 8-year-old's father came into the room and cut the feed.
If you can take it, watch this chilling video from a woman's Ring camera in Atlanta, first uploaded by her friend on Twitter, in which a man's voice can be heard saying "Wake up!" along with clapping noises. At the end he says, "I can see you in the bed, come on, wake the fuck up."
Finally, in the latest reported incident, a woman in Texas was at home on Monday when her Ring home security alarm also went off, before a hacker's voice told her that her "account had been terminated." The person, who sounded like a man, said that she had to pay a "ransom" of 50 bitcoin or she would "be terminated" herself. Then the person said that they were outside her front door, showing footage from the woman's Ring front door camera.
A Ring spokesperson told the Cut that "while we're still investigating this issue & taking appropriate steps to protect our devices based on our investigation, we're able to confirm this is in no way related to a breach of Ring's security." They added that, "due to the fact that customers often use the same username and password for their various accounts and subscriptions, bad actors often reuse credentials stolen or leaked from one service on other services. As a precaution, we highly and openly encourage all Ring users to enable two-factor authentication on their Ring account, add Shared Users (instead of sharing login credentials), use strong passwords, and regularly change their passwords." The spokesperson also said that Ring had "taken appropriate actions to remove the bad actors from all affected accounts, and "all affected users have been contacted."
The Ring camera's speaker function initially attracted customers, enabling parents to talk to their kids at home, but it has now turned into a nightmare. And hacking is only the latest development in the dystopian surveillance saga of Ring, which recently partnered with 400 police departments across the country to hand over hours of doorbell-camera footage for criminal investigations. Think about that the next time you watch a cute Ring video of a bear ringing a doorbell.
This piece has been updated to reflect an additional information.