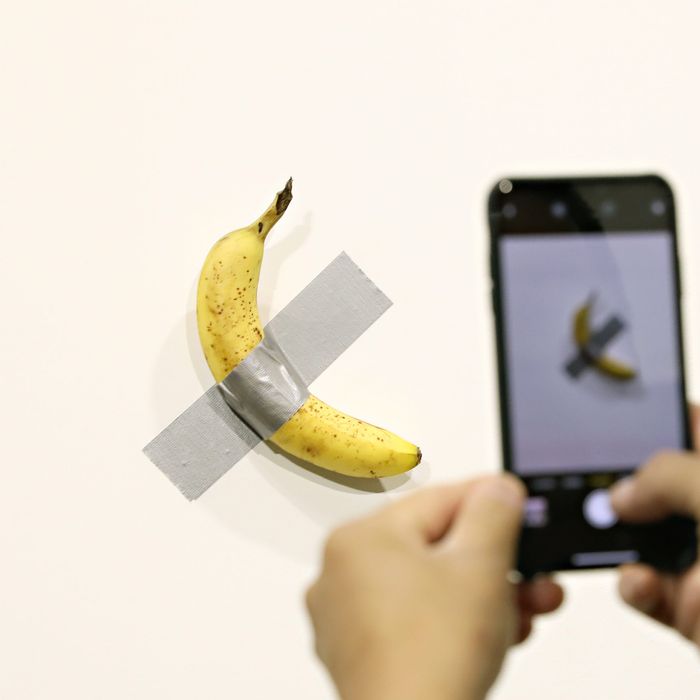 Photo: Cindy Ord/Getty Images
Art is all around us: in the soil, the sky, even in the $120,000 banana that was briefly taped to a gallery wall at Art Basel over the weekend. The banana in question may be gone, digested in the stomach of another artist, but its bold statement of creative intent lingers on, raising more questions than it has answers for, like: What did the art banana taste like?
For context: Artist Maurizio Cattelan taped a banana to a wall at Art Basel Miami and sold three versions of the work to buyers, each going for between $120,000 and $150,000, either because he is a wizard or because of extreme wealth inequality. According to the New York Times, the banana, titled "Comedian," was the main toast of the town — until Saturday afternoon, when New York–based performance artist and #fruitdisruptor David Datuna removed it from the wall, peeled it, and ate it as a huge crowd of art lovers, who may or may not have eaten lunch yet, looked on.
On Sunday, Cattelan's gallery, Perrotin, announced that the replacement banana had also been removed because it was causing too much excitement among the live-wire attendees of the art fair. "Art Basel collaboratively worked with us to station guards and create uniform lines," goes the statement. "However, the installation caused several uncontrollable crowd movements and the placement of the work on our booth compromised the safety of the artwork around us, including that of our neighbors."
So, what's the deal with this banana, and does it even taste any good? According to Datuna, the artwork was "very delicious." High praise for a banana, almost suspiciously so. Usually a banana comes in two flavors: too slimy or too dry, like a freshly laundered sock to the touch. It could be, though, that bananas taste better when you're getting insane amounts of attention for eating one.