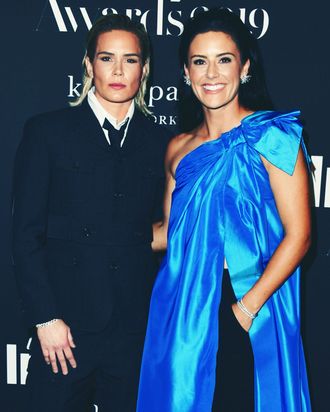 Ashlyn Harris and Ali Krieger.
Photo: Jon Kopaloff/Getty Images
A heartfelt congratulations and resounding best wishes to U.S. Women's Soccer stars Ali Krieger and Ashlyn Harris, who are now officially wife-and-wife.
On Saturday, the beloved power couple and World Cup champions, who have been dating for nine years, tied the knot at Vizcaya Museum and Gardens in Miami. While Harris didn't meticulously document the ceremony like she did the USWNT's post–World Cup drunken celebrations, we've gotten a few glimpses of the ceremony from the couple and attendees like teammate Megan Rapinoe, all of which have been glorious. First and foremost, we need to talk about Harris's suit.
While the goalkeeper could maintain her swagger wearing a trash bag, she looks exceptionally good in suits, which may as well be her official outfit. Her wedding-day suit, a custom tuxedo designed by Thom Browne, was no exception. According to Vogue, which photographed the American designer fitting Harris last month, she and Browne wanted to re-create and refine the sexy sheer-suit look Harris wore to the ESPYs earlier this year. For the wedding ceremony, the duo landed on a black silk faille tuxedo with a beaded, organza overlay and double-breasted jacket. Then, at some point during the night, Harris changed into matching shorts, which might just be the best part of the outfit.
Speaking about collaborating with Browne in an interview with People, Harris said, "It [has] been the most enjoyable, beautiful process I have ever done and I've been a part of fashion for a long time now. To just have the access to give input and create something together has been one of my greatest accomplishments." (Also, we'd be remiss to not mention that Krieger looked stunning in her white gown by Pronovias.)
Now I know what you're thinking: I want nothing more than to see a dramatic, touching video of the couple getting ready for their big day, wearing these aforementioned looks. We've got you: