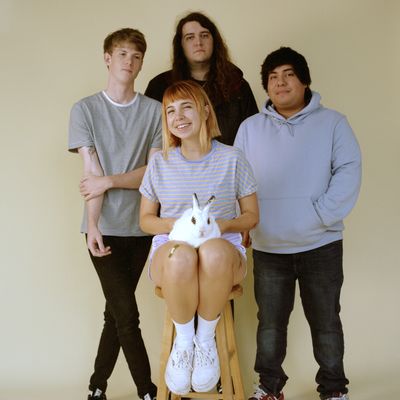 Photo: Courtesy of Beach Bunny
At any given live show for the Chicago-based indie-pop band Beach Bunny, the 23-year-old lead singer, Lili Trifilio, says there are three distinct subgroups of fans: "emo punk kids that love to mosh and crowd-surf," "indie rockers that you would expect to listen to Beach Bunny," and, most notably, "young girl fans that love TikTok."
In fact, the young band of recent DePaul University graduates is perhaps one of the first indie stars whose popularity was born from the music- and video-sharing app beloved by Gen Z. Their song "Prom Queen," an anxiety-filled, young woman's indictment of beauty culture ("You should lower your expectations / I'm no Quick Curl Barbie"), has been used in nearly 450,000 videos on the app, in addition to over 33 million listens on Spotify.
The TikTok videos using the song range from empowering clips of teens knowingly poking fun at the beauty standards the song critiques to occasionally misguided interpretations of certain lyrics. In many of the videos, the tweens defiantly smash on junk food, and show off whatever jeans they're wearing to the lyrics "Shut up, count your calories / I never looked good in mom jeans." They roll their eyes at the societally accepted "Blue-eyed blondie, perfect body" in the song. In other videos, these lines seem to be taken at face value, without the irony, and young girls discuss their diets and weight loss and desire to be "prettier." On a very small Reddit thread, some listeners have picked up on this trend, with one user writing, "'I've been starving myself carving skin until my bones are showing' are lines that make me feel so heard. hate that it's become some stupid meme. but don't shit on people for relating to it." On both ends of this spectrum, the videos are united by their ability to embody the incredible teen angst the band inspires in its listeners.
Beach Bunny's debut album, Honeymoon, will be released in 2020 on Valentine's Day. In the meantime, they are touring nationwide, selling out shows in cities from Dallas to West Hollywood to Seattle. (Their Boston show was moved from one venue to another with almost twice the capacity.)
Trifilio describes the new album as different from the rest of her music. This release is a story about the "entering and exiting stage of the honeymoon phase of a relationship," which she says can be listened to from the top to the bottom for a happy story, or in reverse for a bleaker narrative. And even if Honeymoon sounds like a breakup album, Trifilio insists that it isn't. "Breakup songs are fun, but I don't want to be known only as that," she says, laughing loudly — a great irony since her fans might love her for being the girl who will sing about crying 19 times in a single song.
Trifilio began playing music for others in high school, but it wasn't until college that she moved from performing acoustic covers of Katy Perry's "E.T." to writing her own material. When the opportunity came to compete in a local "battle of the bands" against her ex-boyfriend, she quickly assembled Beach Bunny, named after the slang term for a female surfer. "It wasn't to get back at him or anything like that," she said of joining the competition; Trifilio and her ex even shared a drummer who, knowing each of their respective talents, told people, "Either way, I'm going to win." In the end, Trifilio didn't beat the ex, but she did keep the drummer and the rest of the band who comprise today's permanent lineup.
Before long, the group accelerated from unpaid coffee-shop gigs to being a mainstay of the DIY scene in Chicago: a music circuit of edgy, young Midwesterners making indie-rock music, described by a native who knew Trifilio when they were young as "mostly just these pompous white dudes in Carhartt beanies and Docs." At her first shows, Trifilio says she was often asked questions like, "What band are you here to see?," or "Are you a groupie for one of these bands?," even when her face was on a nearby poster. When Beach Bunny finally gained some notoriety, the same all-male bands who used to ignore her inquiries about joining them onstage began asking her to join local concert lineups. Trifilio, reluctant to start any drama, admitted these experiences were "frustrating," but for the most part has laughed them off — perhaps because she, unlike them, is on a tour across the country.
Because she is an indie-rock girl from Chicago, emerging righteously from the male-dominated scene, the comparisons to Liz Phair come easy, and often. In January, the Chicago Tribune wrote, "Beach Bunny's songs are intimate and practical in a way that recalls Liz Phair." Trifilio now giggles at comparisons like these, saying, "Whenever people say that, I'm like, 'Oh my gosh, what a big compliment,'" but she doesn't quite see it herself.
More accurately, women on the indie scene like Phoebe Bridgers, Soccer Mommy, or Snail Mail might be better comparisons. And Trifilio herself cites Marina and the Diamonds and Hippo Campus as notable influences. Nevertheless, because of Trifilio's brutally honest lyrics on beauty and boys and being young, the band often gets lumped in with emo bands at shows, despite their all-pastel, surf-pop aesthetic. Onstage, she sports bubblegum-pink gym shorts and a white sweater. She's early-20s, Midwestern provincial, with Sharpie marks on her Red Bull–holding hands, and her self-described "baby face" framed by two pink hair tendrils tied up with baby-blue bands.
Besides "emo," another phrase that gets associated with Beach Bunny is "sad-girl music," which also makes Trifilio laugh. On one level, it's a too-easy descriptor for a young woman writing music. And on another, Trifilio admits it is all rather sad, and she sometimes worries about her young TikTok fans' love for her songs. When she sees 13- and 14-year-olds identifying with the intense heartbreak and bullying she sings about, she often thinks, Oh my God. I hope you're not going through that. You haven't even hit puberty yet! The songs, when combined with TikTok, give these fans a platform to sing about loneliness while sitting very alone in their bedrooms, or play out their frustrations about being judged for their appearances while sporting their unique styles on-camera. Her songs are self-conscious and doubtful — songs indicative of a generation used to close-reading the emojis in texts from their Tinder matches. In "Boys," Trifilio sings, "Boys will be boys, but you're not like the other ones / What will I do without you when tomorrow comes?"
At a recent show in New York, this connection she's forged with not only the TikTok girls but also the rest of her fan base, was on full display. When she told the crowd, "Beauty standards are fucking stupid," they screamed in agreement. When she told them they should sit down for an "intimate moment" together, everyone immediately plopped to the beer-stained floor of the venue. And when she told the crowd to line up against both walls and charge each other, they did it gladly, singing lines like "All I do is think of you and cry" and "Do I look like her? Does she talk like me? / Reconstructive surgery can't fix my anxiety" the whole time, jumping back into the mosh pit when their five-foot-three bodies were knocked down. "It was kind of like a mind control," said a fan after the show.
She is a catalyst for the tween girls who aren't normally encouraged to be angry, spiteful, or even sad. And, at the show, they are directly below Trifilio in front of the stage — young and sprightly enough that the bouncer at the door kept busy trying to decipher fake IDs. Behind the TikTok crowd were the moshers who took Trifilio's suggestion to "punch each other if you want" quite literally. And finally, at the very back of the venue mulled the indie kids — mostly white, with plenty of beards and plaid and IPAs from the bar.
And though each of these groups looked radically different, they all seemingly knew every word to every song, from her first single to her newest EP.
According to Trifilio, "Prom Queen," the song that continues to be the band's showstopper, was originally written by Trifilio as an ode to a friend struggling with her mental health. "When you're in that mentality, it's hard to talk to someone. So I was using the song to talk to her," she said. And looking to this show, in addition to what's taking place on TikTok, it's clear the songs are talking to others, too.