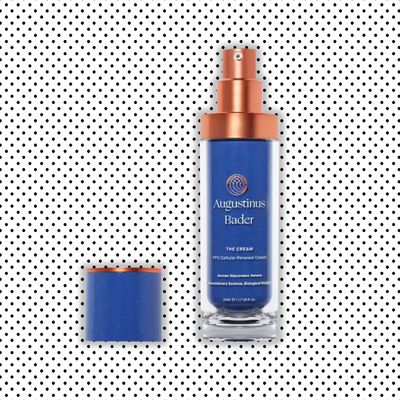 Photo: Courtesy of the Retailer
Some of the best things in life take a month before you can reap their full benefits. Like Advent calendars, or Augustinus Bader's The Cream.
It takes between 30 and 40 days for skin cells to turn over, so using any new beauty product requires patience, not to mention compliance. It can be hard to wait that long, but for this cream, it's worth it. Just ask Kate Bosworth, who says, "It is truly the ONE product I can't live without." Or L.A. beauty expert Cassandra Gray, who puts it more succinctly: "I look younger. That's the easiest way to sell it." Or the Cut's own Kathleen Hou, who has called it "the secret to rich-person skin."
The cream is fueled by a cocktail of active ingredients that includes vitamins, natural amino acids, and a bunch of allegedly miraculous synthesized molecules referred to as Trigger Factor Complex 8. The latter was formulated by a professor of applied stem cell biology at the University of Leipzig, who was looking for solutions to help burn survivors heal faster. Turned out, TFC8 kicks off the regeneration process within stem cells, enabling them to repair fine lines, dark spots, redness, and uneven tone and texture.
At $265, this product is not cheap. But it would be a great gift for someone you really love, who really loves skin care. Just make sure to check in with them 30 to 40 days later to hear what they think.
If you buy something through our links, New York may earn an affiliate commission.