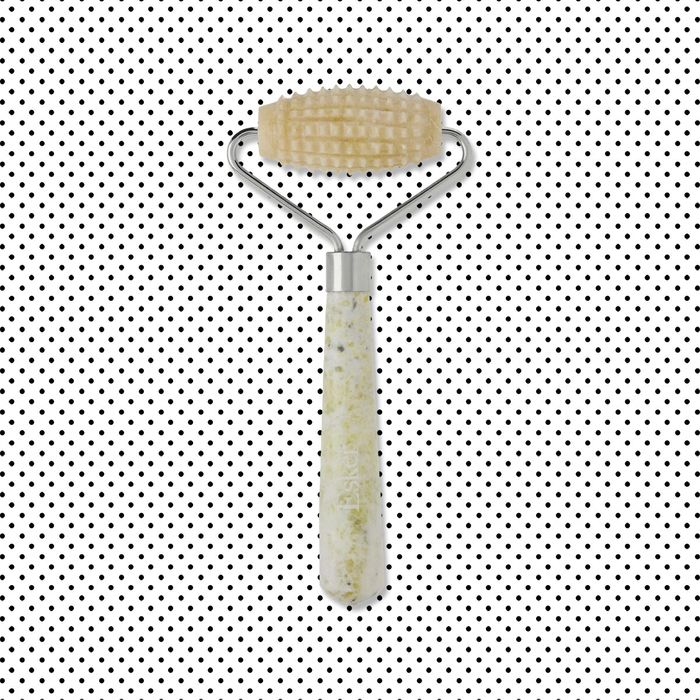 Photo: Courtesy of the vendor
Sometimes after a long day, you just need to go home and roll your face with a photogenic pastel stone like a upper-class woman in 7th century China. At the end of this long year, almost everyone on your list could probably use a good neck-to-toe rolling with an extra-large serving of Xiuyan Jade.
Esker's supersized, perfectly named Allover Roller is 7 inches tall and 3 and a quarter inches wide — like a jade roller for someone who's 50 percent bigger than an actual human (Hagrid?). With its textured head and pretty marbled handle, it gives your body all the de-puffing, lymphatic-massaging, de-stressing benefits your face usually keeps for itself.
Not only will it make you instantly feel baby, but can be used to solve a bunch of impending winter-specific issues. Regular rolling can increase circulation (for those who still shiver underneath throw blankets), break up the tension within fascia (for those with winter boots that aren't sufficiently broken in yet), and help with some of the puffiness that comes with a hibernation diet.
It's the perfect ending to an evening that includes a hot, spicy bath and a ceremonial slathering of your favorite body lotion. Skip the massage gift card and slip this symbol of self-care into a stocking. In the world of rollers, it's a giant, but when it comes to one of those abnormally wide sock-boots sitting above fireplaces, it's the perfect size to make it feel full.
If you buy something through our links, New York may earn an affiliate commission.