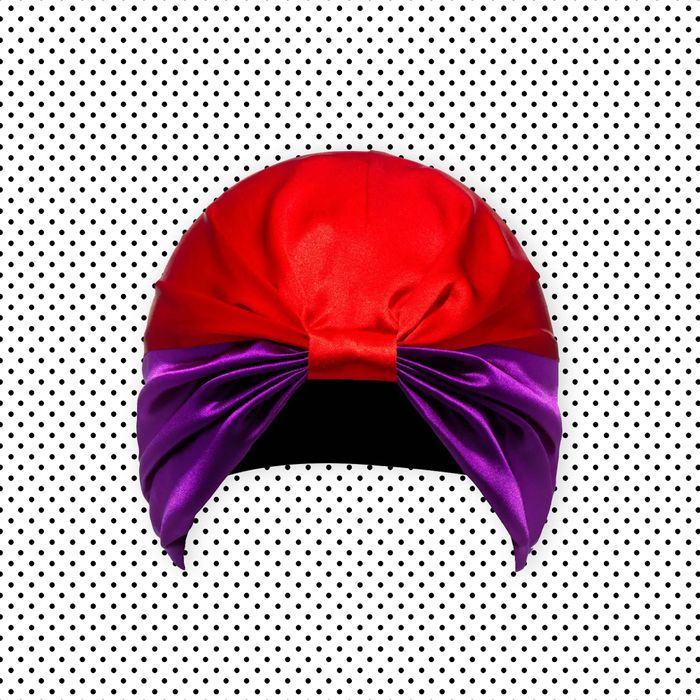 Photo: Courtesy of the retailer.
There are enough things to worry about on the long, winding journey to bed: selecting your serum(s), brushing your teeth, ruminating about everything single thing that happened during the day and every single thing that could happen tomorrow. The last thing anyone wants to do is come up with yet another hairstyle for sleeping. But unless you have a silk pillowcase or are somehow capable of sleeping without moving, there's a good chance that your hair is getting drier or damaged as you toss and turn during the night.
This gorgeous silk turban by Silke London makes avoiding all that easy. Take what you're working with hair-wise, pile it up however you want, and slip it all into a smooth, friction-less, moisture-locking cocoon. Now you're free to cycle through a whole vinyasa of sleep positions without worrying about being a ball of tangles and frizz in the morning.
A sleep cap can be a godsend, especially for anyone with curly hair, really long hair, really damaged hair, or a protective style. The elasticized edges on this one make it a step up from the towel turbans of yore, and the striking color combo makes you feel a certain type of glamorous, like a charming, well-off Amy Sherman-Palladino character from the 1960s who wears red lipstick all day long, says witty things without even trying, and talks three times faster than the average human.
If you buy something through our links, New York may earn an affiliate commission.