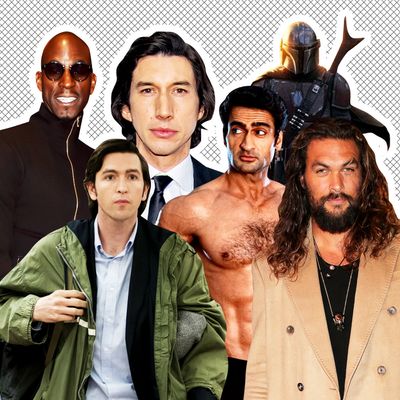 Photo: Getty Images, HBO, Disney, @kumailn/Instagram
Here at the Cut we love a big boy, and 2019 has been the year of absolutely huge ones. They're everywhere, looking too massive alongside doors and cars and small animals; some awkward in their largeness and others with the grace and power of small elephants.
Of course, I live and die by my little kings — Timothée Chalamet preeminent among them — but there's nothing quite so wonderful as a very big boy, one that looks like he could pick you up with one hand and throw you to a different continent.
Naturally it was difficult to pick the best big boys of the year, but here's who made the final cut:
Jason Momoa
Not only is Momoa a staggering 6'4", but this big sweetie loves Fendi scrunchies and has his own canned-water company. He looks absolutely gigantic on every red carpet, talk show, and of course needed zero CGI assistance when playing the Herculean lead in Aquaman last year.
John Cena
This big boy is known for eating 10,000 calories worth of Tic Tacs everyday, which is deranged but otherwise somehow seems very sweet.
Brian Tyree Henry
Henry is a whopping 6'2". Best known as Paper Boi on Atlanta, he's also extremely underused yet the only good part of Joker.
Bill Hader
Hader looked especially big at this year's Emmys, where he towered over hosts and posed, uncomfortably, for photos. As my colleague Allison Davis noted on Twitter that night: "Bill Hader won an Emmy for dat ass … and exceptional talent on a fantastic television show." Indeed!
Peppa Pig's Dad
Daddy Pig, the unsung hero of the British children's cartoon Peppa Pig, is perhaps best known for the 2019 bop "Expert Daddy Pig." But he's actually the biggest boy on our list today: According to the Peppa Pig Fandom site, he stands at a cool 14'0" tall.
Kevin Garnett
Former NBA star "KG" made a surprising case for himself as the year's best supporting actor in Uncut Gems, assisted by this 6'11" (!!!!!!) height. Look out, Jason Derulo.
The Witcher
According to Vox, Henry Cavill got so strong for his role as a monster hunter in The Witcher that "his muscles began wearing down his tough leather costumes at a rapid pace. Just the sheer enormity of his shoulders and glutes eroded the dead-cow clothes to unusable looseness." Hot.
Jason Derulo
Jason Joel Desrouleaux, the man who should get credit for all of Cats' box-office earnings, is six feet tall — nothing to sneeze at. But that, of course, is not why he made this year's big boy list.
Bernie Sanders
For a while I figured Bernie simply had the vigor and screaming voice of a very big man, but it turns out that at 6'0", he's actually a bonafide big boy.
Jon Bernthal
What happened in Ford v Ferrari? I still don't know! But Jon Bernthal, who plays a suave, suited car executive, is huge and gorgeous, looking like he smells like Santal 33 and Macallan. His big body and somehow even bigger nose were the only things that got me through this car movie's interminable dad drama.
The Mandalorian
What is the Mandalorian? Who knows! In my head, he's just a very big boy with a Middle Earth aesthetic.
Kumail Nanjiani
Nanjiani has been a hottie but slid under the wire to make this list when he recently revealed that he'd gotten Bowflex shredded for a new Marvel role. He's definitely the strongest big boy on this list, but still I'd love to see him face off in a foot race against Daddy Pig.
Cousin Greg
The sweetest big boy on the list, Cousin Greg is 7'0" tall and in zero control of his body. He moves like a small boy who woke up one day many feet taller, and I love that about him.
The Bear in Midsommar
This huge boy was burned in a pagan ritual at the end of everyone's favorite horror-breakup film. He is, in fact, Jack Reynor packed into a gutted bearskin, which gave him the extra height and girth to make this list.
Adam Driver
Of course, my #1 big boy of all time! This man is too big for Earth. Barrel-chested and big-faced, this BFG used to run five miles to Juilliard every day and do pushups "by the hundreds in the hallways." He also used to eat six eggs for breakfast and an entire chicken for lunch. I can't emphasize how astonishing his size is — the entirety of La bohème could be performed on his chest! I'm the size of his pinky! I love Adam Driver.