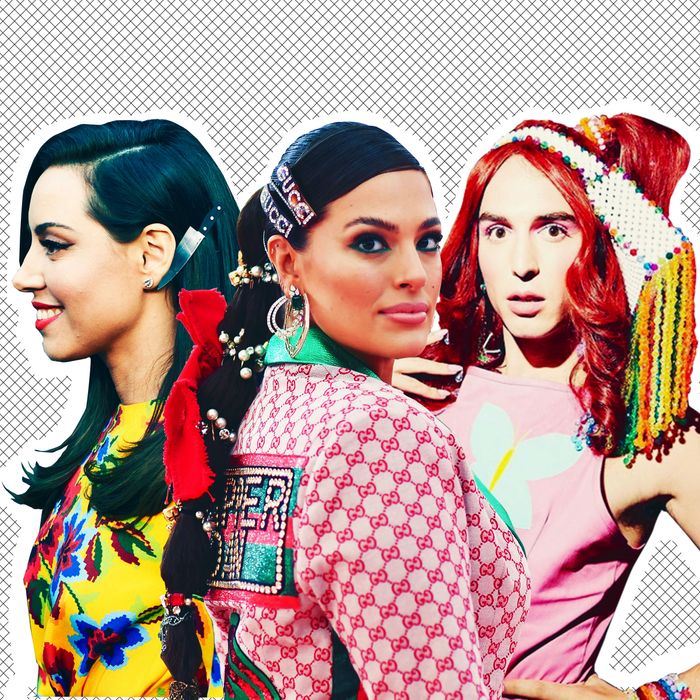 Photo: Getty Images, @Susan_Alexandra
This was a divisive year, but one thing many people agreed on was how fun it is to stick miscellaneous things in hair. Hair length, texture, cut, and color didn't matter; neither did the choice of whatever you stuck in it. In 2019, literally anything can be a hair accessory — purses, bits of string — all you have to do is put it on your head. What didn't we stick in our hair in 2019? Short of real live animals, not much. Here is a look back at some of the best hair decorations of the year.
Barrettes
Are you as tired of reading the word "barrette" as I am of typing the word "barrette"? Barrette!!!! Anyway, The Barrette was unanimously voted both homecoming king and queen this year. Will it finally graduate and go to college out of state, so we only have to see it on holidays? Only 2020 will tell.
Bows
Bows were like the best friend-sidekick to barrettes during this year's infantilizing hair-accessory revival. Not queen-bee popular, but still pretty popular and definitely a starter on varsity.
Huge Headbands
Rounding out the trio of plastics reigning over North Shore High were really chonky headbands.
Bobby Pins
Historically, these have always been stuck in hair, but this year was all about making it blatantly clear they were stuck in your hair. You know, like barrettes.
Scrunchies
One of the most functional and comfortable things that got stuck in people's hair this year. We met some fun varieties like Lizzo's sparkly scrunchie, Jason Momoa's velvet scrunchie, and the huge dinner-plate-size scrunchie above and below.
No-Crease Clips
Like bobby pins, these originally never saw the light of day, only the light of various backstage and bathroom areas during the getting-ready process. That is, until Instagram pointed out these are also basically barrettes.
Pearls
A very good alternative to wearing a pearl necklace. Just ask Betty and Sally Draper.
Safety Pins
Probably one of the most annoying things to unstick from your hair, but an excellent way to stay prepared for fashion emergencies.
Knives
Good for Halloween, horror-movie marathons, or professing your love of Top Chef in public.
Earrings
An easy way to decorate your hair for Easter or Coachella, or both!
Herbs
Not just for pillow mists, hand creams, and stress-relief sniffing!
Pieces of String
Actually, this is probably the most annoying thing to unstick from hair. Invest in a bag of 1,000 elastics so you can just cut them out and move on with your life.
Pieces of Wire
Pipe cleaners will also get the job done, but gold wire makes for a more sophisticated finish.
Chains
For ponytails that, unlike Ariana Grande's, feel a little too light.
Purses
Even more functional than a scrunchie!
Glitter
The Euphoria effect knows no bounds. An excellent hair option for New Year's Eve.
If you buy something through our links, New York may earn an affiliate commission.