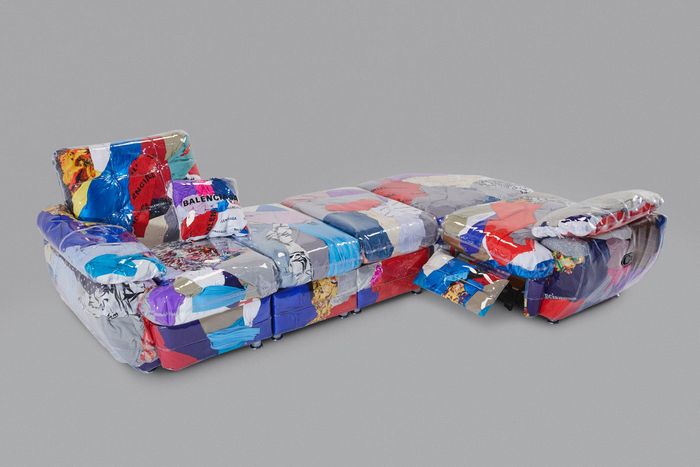 Photo: INNA KABLUKOVA/FROMINKAWITHLOVE/Courtesy of Balenciaga
You might think Art Basel Miami Beach is all about, well, art. But the annual art fair is actually an opportunity for fashion to insert itself into the art community, with collaborations and curations, and of course, artful products to buy as well. This year, Dior brought its pre-fall 2020 men's runway show to Miami. Brands from Bottega Veneta to Gucci followed close behind, bringing with them plenty of models and celebrities.
Below, a roundup of all the best, weirdest, most over-the-top fashion-adjacent works we've seen so far.
This $182,000 Sneaker Trunk
Designed by Virgil Abloh for Louis Vuitton, this massive sneaker trunk, perfect for the ultimate hypebeast, fits at least six pairs of low-tops and eight pairs of high-top sneakers. Each drawer is measured to store up to size 13 in low-tops and 12 in high-tops, so basketball players aren't left out. It's also fully customizable, in case you want it monogrammed with your name, or the number of shoes you own.
This Scratch-and-Sniff Handbag
Yes, this bag literally smells. In a good way! Fendi partnered with perfumer Francis Kurkdjian on a special musky-scented leather bag that you can sniff without scratching. The leather fragrance lasts up to four years, but a small bottle of perfume is also included, in case you want to reapply or wear it on your skin. It's a great conversation starter.
This Wild Real-Estate Stunt
Diesel is building an apartment complex in Miami's Wynwood neighborhood, but that's not actually the stunt we're talking about here. In a clever marketing scheme, the brand is selling each unit with a corresponding T-shirt featuring the floor plan. So, instead of paying $5,500,000 for an apartment, you pay the same amount for a T-shirt — the world's most expensive, ever — and the space is thrown in for free. A steal, if you don't think about it! "In this serious world of real estate, and the classy world of fashion, we decided to bring a little irony and spirit," said Renzo Rosso, the brand's founder.
This "Sculpture" by Virgil Abloh
Titled "Dollar a Gallon," (heavy on the air-quotes), this sculpture by multi-hyphenate Virgil Abloh in Miami's Design District looks like a traditional Sunoco gas-station sign, but is also meant to signify "the commodity of an advertised sponsor," according to a press release. Abloh has apparently been doing a lot of thinking and research about advertising. But honestly, I'm not sure I "get it." Maybe that's the point?
This Miu Miu Stool
Inspired by the set design for Miu Miu's fall 2018 fashion show, which had a '50s and '60s vintage feel to it, the brand's M/Marbles Stool doubles as a fun game. The different colored sticks can be moved around to create original patterns, or spell out secret messages to the person sitting across from you.
This Billie Eilish–Approved Exhibit
Depop and Cartoon Network partnered to bring the 21-year-old artist and Queens native Kevin Rosa, who goes by "Slumpy Kev," to Art Basel for the first time. Kev likes to use cartoons in his work — you might recognize his Powerpuff Girls jumpers because Billie Eilish is a fan. But the exhibit also references classics like Ed, Edd n Eddy and Courage the Cowardly Dog.
This Floating Louis Vuitton Shelf
Because Louis Vuitton was founded as a trunk company, the brand's logo has become synonymous with travel. When American designer Andrew Kudless was approached by the French house to design a new home object for its annual Objets Nomades collection, however, he wanted to show the tension between being on the road and the "comforts of home." His hanging shelf reflects this tug-of-war with sloping wood and leather straps that appear to be stretching it. It also makes you want to never leave your living room.
This Trippy Handbag
The San Francisco–based painter Emilio Villalba collaborated with Valentino on a range of VSLING bags with emojilike prints, including eyes, lips, and cigarettes. Wait, did it just blink??
And Last But Not Least … This Balenciaga Couch
Last year, artist Harry Nuriev was the talk of Art Basel Miami with his cheeky, Balenciaga-branded office setup, which included an air conditioner and a copy machine. (They both doubled as functional furniture.) This time, he's back with an official Balenciaga collaboration in the shape of a couch. Stuffed with damaged or otherwise unsellable garments and offcuts from obsolete stocks of Balenciaga clothing, it's a lot more comfortable than the last chair. You do the math for how much it will cost.