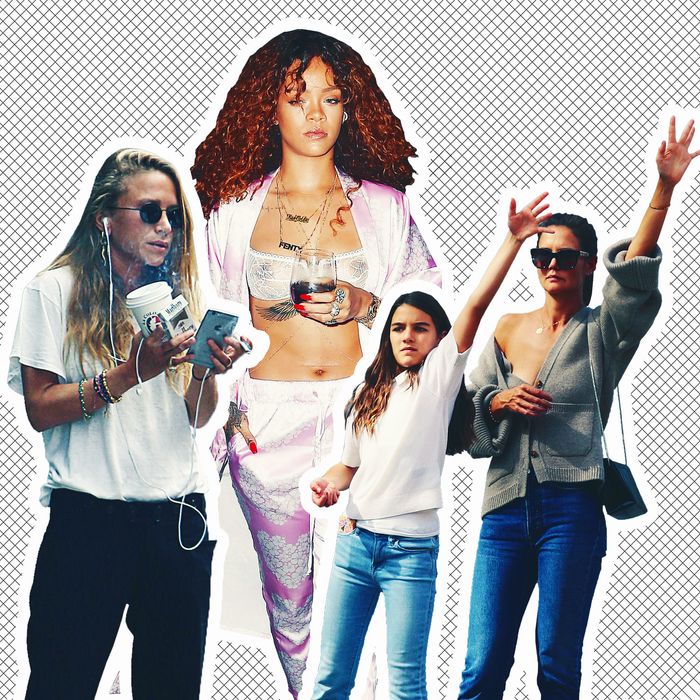 Photo: SplashNews/Getty/MEGA
After Instagram was born in 2010, the celebrity paparazzi photo lost much of its power. Images of celebrities living their daily lives once felt scarce, but now they're generated every minute of every day by the subjects themselves and carefully staged to their liking.
The Kardashians, of course, are masters of this. They took what we loved most about paparazzi photos — the too-much information, the shock value, the mundanity — and made it their business. At the same time, as Amanda Hess points out in an essay for the New York Times, "When Instagram Killed the Tabloid Star," social media scrambled our understanding of who was on display. Regular people became the subject of their own, self-generated tabloid photos over the last ten years, while celebrities aimed to seem more "regular."
Where does this leave us? In a twisted way, the paparazzi image now reads as somehow more real than the ones we see on Instagram. Sometimes, if all of the elements are right, they can feel stunning in their humanity — like works of art. Even Taylor Swift walking backward down a hill to avoid paparazzi is arguably more revealing than a personal Instagram. This decade also produced the enigmatic anti-Instagram star: Shia LaBeouf, Kristen Stewart, the Olsen sisters. They aren't trying to sell us anything when they get dressed for Pilates or work, but their personal style has had just as much, if not more influence than that of actual influencers for its organic strangeness.
One of my favorite Instagrams to come out of the past decade is @PaparazziFineArtOfficial, an account run by photographer Hannah La Follette Ryan. (You might also know her work under the handle @SubwayHands.) Ryan says she admires paparazzi images for their ability to "capture the beauty and humor of the everyday." Think of Jake Gyllenhaal scratching his back with a fork, or Kim Kardashian with a really bad sunburn. Below, she helped us cull some of the decade's most memorable paparazzi snaps — ones worthy of a museum.
1. Sad Keanu
This is where it all began: May 2010, Keanu Reeves sitting on a park bench, eating a sandwich by himself. He stares down at the ground, seemingly crestfallen, or deep in existential thought about sandwiches and the simulation. La Follette Ryan says it reminds her of Caspar David Friedrich's brooding Wanderer Above the Sea of Fog. The photo quickly went viral, with different variations of sad Keanu popping up over the years, like when he was on set for John Wick. Thankfully, our downtrodden hero ended the decade on a high note.
2. Rihanna Carrying a Wineglass
Because it depicts a celebrity doing something unusual in a nightlife setting, this photo has whiffs of the old-school "train wreck" paparazzi photos — the kind people used to gawk at nastily in the gossip-blog-driven aughts. The difference here is that Rihanna has her shit together. She makes the whole wine-and-pajamas thing seem like a power move. It's a paparazzi photo you can feel good about.
3. Shia LaBeouf and His Mom
Shia LaBeouf has made it clear that growing up famous was hard on him, but in this decade, he's attained a measure of freedom. Yes, he's still chased by paparazzi, but he hasn't let the public eye shape his sense of self or style, which became a point of obsession for young menswear enthusiasts. This image of him and his mom floating down a Los Angeles street is a reminder that he's from his own beautiful universe — and we should probably let him exist there in peace.
4. The Olsens Taking a Smoke Break
"Every Olsen twin pap shot should be cast in bronze," says La Follette Ryan. "I know Rodin would agree." As former child stars like LaBeouf, they are now notoriously private, which is why any non-staged photo of them feels like a gift and worthy of a close read. This one of a back-alley chat has particularly strong body language. What is Ashley emphasizing? And why isn't Mary-Kate listening? The point is we'll never know.
5. Kristen Stewart Flipping Off the Paparazzi
"It's harder, if not impossible, for celebrities to ignore the paps today," says La Follette Ryan. "You can feel some trying not to acknowledge the cameras, while other savvy celebs are learning to use the paps to their advantage." It's nice that KStew still absolutely hates it. Someone has to.
6. A$AP Rocky Applying Kendall Jenner's Lip Balm
Kendall Jenner is the most elusive of the Kardashian sisters, and an unscripted glimpse of her is still almost impossible to come by. This rare, tender photo of her and rumored boyfriend A$AP Rocky applying lip balm is beautiful in its banality and grace.
7. Leonardo DiCaprio Aggressively Enjoying Himself
One of the original child stars, DiCaprio has done a stunning job of never really growing up. That goes for his girlfriends, too.
8. Justin Bieber Getting a Haircut
"This is the counterpoint to Britney's haircut photos that we needed this decade," says La Follette Ryan. You can tell that Justin Bieber, with the help of his new wife, Hailey Bieber, is trying so hard not to fall victim to the old ways of child stars. This photo gives us hope.
9. Ariana Grande Skipping in the Rain
At first, this looks like one of those "celebrity walking funny" photos, like Michael Cera prancing. But it was taken shortly after the death of Grande's ex-boyfriend Mac Miller last year, which gives it a totally different emotional resonance. Grande looks like she's snatching a moment of happiness in what's been an undoubtedly emotional couple of years. Every time I see it, I get emotional too.
10. Jonah Hill Drinking Water
Like most of us in this self-care-obsessed decade, Jonah Hill went to great lengths to get healthy. Also like most of us, Jonah Hill is not perfect and was often photographed going to extreme measures to hydrate while doing extremely unhealthy things, like smoking. It was his imperfections, and his effort — both in the style and lifestyle departments — that so many fans found inspiring.
11. Suri Cruise and Katie Holmes Hailing a Cab
If paparazzi photos from the early aughts inspired you to get a Juicy Couture tracksuit, then this image of Katie Holmes probably made you want a cashmere bra. "Today, pap style inspiration is immediate and nonstop," says La Follette Ryan, which would explain why Holmes's soft Khaite top immediately sold out. This image is particularly good, though, because we see young style icon Suri Cruise rising in her mother's shadow.
Bonus: Dua Lipa and Anwar Hadid Looking at an iPhone
Looking at young lovers Dua Lipa and Anwar Hadid look at an iPhone while each holding another iPhone and a vape feels like gazing into the future of paparazzi images.