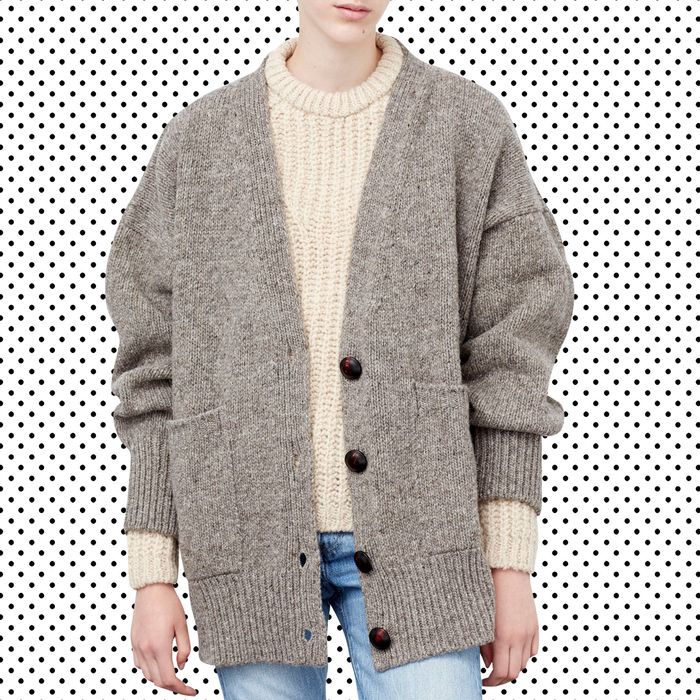 Photo: Courtesy of the Retailer
Back in August, actress Katie Holmes was photographed hailing a cab in what looked like the most comfortable outfit ever. It was a particularly chilly summer afternoon — one of those days where you start to get really excited about fall — and she threw on a $1,540 cashmere button-up sweater by the brand Khaite over a matching $520 cashmere bra, as one does.
In the resulting paparazzi photos, the sweater casually droops off her shoulder, revealing her cozy, insanely expensive undergarments. It was street-style ASMR, and of course, the internet freaked out. (The look sold out instantly.) Not only did Holmes look rich, hot, and comfortable, but this also happened to take place around the same time rumors were swirling about her breakup with Jamie Foxx. It was the perfect revenge outfit in that it was completely impractical and she looked amazing.
Of course, if you're not a celebrity, it's hard to find an occasion when you can actually wear a bra made of cashmere, especially in the wintertime. (It also seems kinda itchy?) But that sweater! The Cut's editor-in-chief Stella Bugbee recently stumbled upon a Spanish knitwear brand called Babaà, which makes a cheaper version that looks just as cozy.
Founded by Marta Bahillo in 2012, all of Babaà's products are produced in Spain by local farmers and artisans, and made with 100 percent natural materials. The colors they use are vibrant and unusual, and each sweater looks one of a kind; they're not perfect, but you can see the handiwork. The brand's knits are also "one size fits all," which means they're roomy and flexible.
The button-up pictured above, for example, is more oversize than Holmes's, but that's ideal for what Stella is calling a "sweater sandwich" — a sweater that you wear over other sweaters (or, I guess, undergarments). The best part is that it will last you a lifetime, unlike some relationships.
If you buy something through our links, New York may earn an affiliate commission.