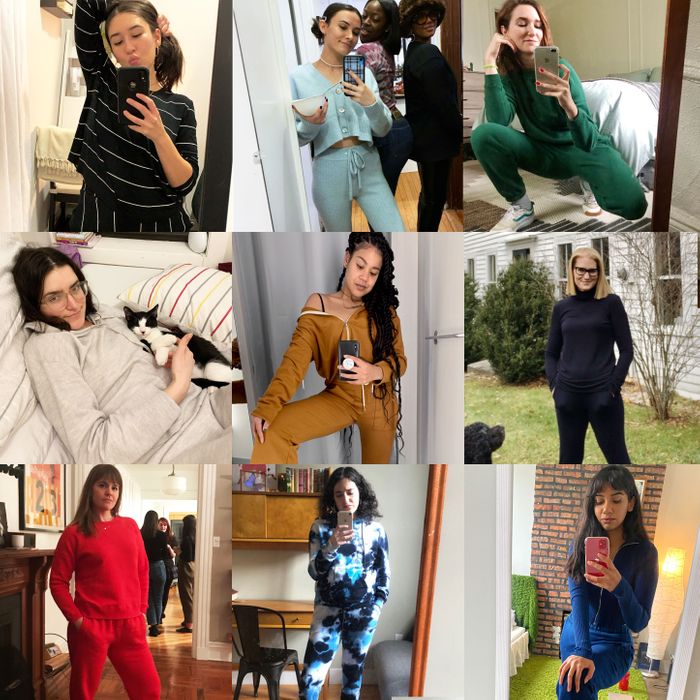 Cut staffers wearing matching sweatsuits. From left to right: Leset, Opening Ceremony, Cos, Mate, Bleusalt, Entireworld, Cotton Citizen, and Cotton Citizen.
Photo: Courtesy of the Cut staff.
Instinctively, we all know the difference between indoor clothes and outdoor clothes. Indoor clothes are comfortable and casual. They're meant to make the wearer feel as close to naked as possible, but decent enough to walk the dog. Outdoor clothes are everything else.
In the last decade, though, the line between indoor clothes and outdoor clothes has blurred. Our interior lives are now projected on Instagram, more and more of us work from home, Kanye West wears sweatpants to church, and Pete Davidson has made the entire world his man cave. As a result, indoor clothes have become increasingly luxurious. They're starting to feel like a sign of a superior lifestyle — one that involves frequent flier miles, lots of time in Los Angeles, and not having a corporate overlord. And if you, personally, don't have that lifestyle? Well, you can always dress like you do.
Still, Karl Lagerfeld famously once said that sweatpants were a sign of "giving up." Have we reached the tipping point where the average non-famous person can wear high-end indoor clothes out and about to social events in New York City? Or will people assume you somehow forgot to get dressed?
Personally, I love to wear inside clothes out of doors. But my colleagues at the Cut were skeptical that it wasn't just a niche fashion trend. So I ordered a bunch of matching sweatsuits from trendy brands with culty-sounding names like Cotton Citizen and Entireworld, and asked them to give them a try out in the real world. We may not be Rihanna, but we are journalists.
Reactions were mixed. Some said that wearing indoor clothes outdoors made them feel invincible. Senior editor Kerensa Cadenas, for example, says that her tie-dye Cotton Citizen suit will be her new "2020 power 'fit." Photo editor Preeti Kinha, who also wore Cotton Citizen, said she felt like "a '90s crime-fighting dance Crew extra who was ready to get into some scuffles."
Snapchat editor Katja Vujić was equally passionate. She loves her gray Cos suit so much, she even gave it a name: Gretel. "It conjures a woman who loves to sit inside near a roaring fireplace but also loves to strut into any given room, and has thick eyebrows," she explained. Writer Sangeeta Singh-Kurtz enjoyed looking like a "big, chic baby" in her striped Leset suit. Meanwhile, beauty editor Jane Larkworthy hasn't taken off her Bleusalt matching set in weeks. You know the sort of dangerous, slightly sexual feeling of slipping your naked foot into an Ugg boot? Jane says that's how her "entire body feels."
Others were more conflicted. Writers Amanda Arnold and Madeleine Aggeler, who each wore all-red suits, both agreed that they looked like "kids on Christmas morning." For Amanda, who wore Champion, this wasn't an ideal vibe. Maddie, who wore Entireworld, was initially pleased with the aesthetic. "Santa is stylish, so that's fine with me," she said. But then she tried to wear her suit to the airport. "Just as the Uber was pulling up the block, I decided that I couldn't actually pull the look off, and in a panic, I tore the sweatsuit off and changed into regular leggings and a cardigan instead." Deputy style editor Izzy Grinspan, meanwhile, wore her Bleusalt suit in a Lyft, and it was so soft, she nearly slid off the seat.
It quickly became clear that there were three key factors determining the success of indoor clothes out of doors: color, styling, and context. Writer Anna Silman said that when she wore her gray suit from Mate the Label, multiple people told her she looked like she was "either in a cult or in some sort of YA novel dystopian prison garb." But editor Adrienne Green, who also wore Mate, found the caramel color of her suit so flattering, she wore it to brunch. After throwing on some earrings, booties, and statement glasses, she felt appropriately dressed for a full Sunday out, which included a restaurant meal, apartment hunting, and a movie night with friends.
One thing we can all agree on is that sweatsuits look great on social media. The Cut's intern Zoe Juanitas says she got seven DMs asking where her Opening Ceremony cashmere set was from after posting a mirror pic on Instagram. Writer Katie Heaney echoed that her green Entireworld suit was a great "pose outfit," meaning that she looked very cool doing specific poses in selfies. But in real life, just standing around, it didn't have quite the same effect.
The Cut's sweatsuit journey concluded IRL, with a potluck at the house of editor-in-chief Stella Bugbee, who was also in dress code. Being in a room together, no one felt self-conscious. Everyone looked hot, comfy, and happy, spreading out across the floor and going for second helpings. The only people who might have felt self-conscious were the ones not in sweatsuits. In my mind, this unlocked the secret to wearing indoor clothes out of doors: If everyone does it, it's not weird.
Oops, did we just start a cult?