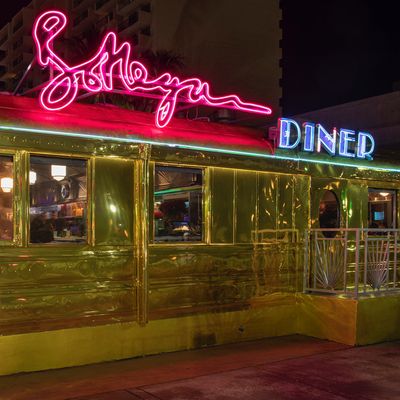 The Bottega Veneta Diner in Miami.
Photo: ROBIN HILL/Courtesy Bottega Veneta
The Art Basel fair in Miami Beach often feels like a work of performance art in and of itself. Celebrities, influencers, and art types fly in from all over the world with their most avant-garde outfits. There are a million parties, with a million and one DJs trying to be the next Diplo. Oh, and then there's the art, which is just as colorful and flashy as Miami itself. The whole thing is a sensory overload, but Bottega Veneta would like to offer you some respite this season with its temporary residency at the historic 11th Street Diner on South Beach. Milkshakes included.
The diner, which is housed in a genuine Art Deco–style Paramount dining car, first opened in Pennsylvania in 1948. In 1992, it moved to Miami, where it's always been the shiniest building on its block. For the occasion, though, Bottega Veneta took things one step further by wrapping its facade completely in Italianite gold. Let me say that again: Bottega Veneta wrapped an entire diner in gold. Inside, the diner vibe has gone relatively untouched. Classic fare — including a signature 11th Street milkshake called the All-Nighter — will be served along with gold-hued burger wraps, metal straws, and napkins. Gold matchbooks will also be up for grabs. Otherwise, the 24-hour diner will operate as usual, open to all, only with a different name spelled out in neon above the door.
Bottega Veneta designer Daniel Lee told the Cut that he sees the takeover as "both elevated and real" — two themes he's tried to work into his own work at Bottega, and within the brand's new store in Miami. "A diner also brings people together from so many backgrounds," he continued. "I wanted to do something fun to launch the store because Miami is a city of pleasure and joy, after all."
Since his runway debut in February, Lee has had immense success with his accessories in particular, many of which include gold hardware. (His chunky gold and silver necklaces have caught my personal attention.) And he's not afraid of color and shine. His spring 2020 collection, for example, included shoes and dresses that resembled disco balls.
"Color is so important to how I design, and Miami is a city where you feel immersed in color and light," Lee said. He's visited a number of times and always leaves inspired by the art, architecture, and atmosphere. "Miami is hedonistic, and for me, I find that freeing," he added. "It is something I also find fascinating about Italy. In the U.K., we are taught that hedonism and intellect are separate. Miami, like Italy, has a heat to it where those two elements sit together comfortably."
The Bottega Diner opening party tonight is sure to be hedonistic affair. If you just want a milkshake, though, the brand's takeover will run through December 14.