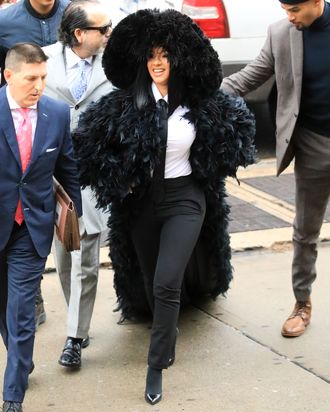 Photo: Alessio Botticelli/GC Images
Cardi B continued her courtroom catwalk yesterday afternoon, arriving at a Queens hearing in a coat straight out of an Edgar Allan Poe fever dream: a black, feathered confection with an estimated ten-foot-long train, designed by Saulo Villela for Adrienne Landau.
She paired the cape with a matching feathered hat, button-up shirt and tie, and six-inch Louboutins. The look is vaguely reminiscent of this Paris Hilton courtroom outfit from 2010.
The judge has actually taken pains to remind Cardi that her hearings are "not a fashion show," which she has clearly ignored. Last year, Cardi was charged with assault and reckless endangerment in connection to an altercation at a New York strip club, but her courtroom outfits have been overshadowing the actual proceedings.
Cardi's previous court appearances have seen her in equally memorable looks, including a Marilyn Monroe moment in a peroxide-blonde wig, an impeccably tailored pantsuit from Barneys, and a futuristic white suit by Christian Siriano:
Of course, the rapper's courtroom outfits follow a long tradition of famous, stylish women pulling out the stops for their court visits. Recall Elizabeth Taylor's power blazer in 1951, or Lindsay Lohan's turquoise suit in 2012, or lest we forget, courtroom queen Naomi Campbell's string of memorable outfits after her assault convictions in the mid-aughts. Indeed, the contrast of Cardi's cloak with the occasion evoked Campbell's choice to don a silver Dolce & Gabbana gown during court-mandated community service in 2007: