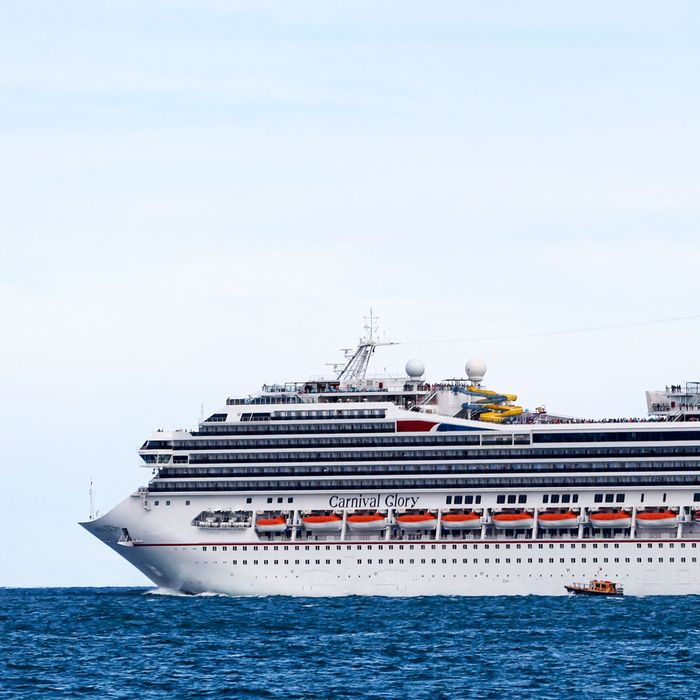 The Carnival Glory, the cruise ship that caused a little chaos in Cozumel on Friday morning.
Photo: RHONA WISE/AFP via Getty Images
Anyone who has a big holiday boat trip on the calendar may want to stop reading right here, because the nautical news we bring you today is chilling: Two Carnival cruise ships collided in Cozumel, Mexico, on Friday morning. According to the Miami Herald, the offending vessel only narrowly missed hitting a third ship (!!) in its calamitous attempt to dock. No serious injuries have been reported, but still.
In videos taken by witnesses, you can see — in wincingly slow motion — the Carnival Glory pull up alongside the already berthed Carnival Legend, the Glory's back end inching perilously close to the Legend's prow. Watching the footage, you will certainly grit your teeth in anticipation of the inevitable, and then, yep: The Glory smashes its butt into the Legend's pointy nose, taking out rows of windows in the process.
Structurally speaking, the Legend appears to have emerged pretty okay? But the Glory skulked off with its rear a mess of tangled metal and crushed glass.
Reports on the numbers of guests hurt during the crash differ: People reports that six people sustained minor injuries, while the Herald, CNN, and NBC all say that one person sustained a minor injury during the evacuation of a dining room spanning decks three and four. Apart from that, not all passengers appear to have really registered the impact, although a number of them caught the incident on-camera.
"The crash wasn't too bad," Carnival Legend passenger Mary Anne McKinley told CNN. "Just felt like a big wave crashing into the ship."
Echoing that nonchalance, Glory passenger Maddison Haynes told the outlet: "Last night we experienced some major motion on the boat so this morning we assumed something similar was happening. We felt a jolt and didn't really think anything of it."
Apparently, the ships' itineraries have not been affected by the dustup, either. "We are assessing the damage, but there are no issues that impact the seaworthiness of either ship," Carnival said in a statement, having reportedly recommended passengers spend their day ashore in Cozumel. 'Kay!
But actually, in the pantheon of documented cruise horrors, this one may actually rank fairly low. Certainly, it does not begin to approach the level of despair inspired by Carnival's flaming poop tour of 2013, nor is it as scary as when disrespectful winds send your boat bobbing like a goddamn cork. Maybe the floating barf orgy would've been more fun? Depending on your definition of fun, I guess.