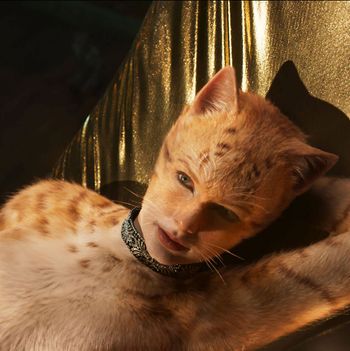 Why so horny?
Photo: Courtesy of Universal Pictures
When the world stopped over the summer to watch the first movie trailer for Cats, many walked away from the viewing experience certain that the final product would be something unimaginably deranged. But what we did not anticipate is how the movie would leave critic after critic feeling, which can be succinctly summarized as highly disturbed, in a sexual way.
The reviews are officially in: Cats — which is based off of a stage musical that's based on a T.S. Eliot poetry book written for children — is unnervingly horny, and to delirious effect. So much so, it's genuinely hard to find a writeup that doesn't include the word "erotic," or "sexual," or "horny," or anything of the like. As Eleanor Halls describes it in The Telegraph, the PG-rated movie musical about cats pleading to go to feline heaven is "a semi-pornographic fur fetishist's fever dream."
Upon reading other critics' descriptions of specific scenes, Hall's analysis seems astute. In The Guardian, reviewer Catherine Shoard writes in horrific detail:
One group scene sees scores of cats writhing ecstatically on the floor, erect tails rising and quivering as one. Another sequence features Rebel Wilson's mog spread-legged, scratching her groin with her hands and caressing it with her own tail. She also uses a rigid string of uncooked sausages as a microphone before ripping off her own fur to reveal another layer of fur and a pink, sequinned teddy — a shot that left many gasping.
In nearly every review, distress is palpable. In his review published on Collider, Matt Goldberg writes, "Cats always feels like it's two seconds away from turning into a furry orgy in a dumpster. That's the energy you have to sit with for almost two hours." On Vulture, Alison Willmore puts it plainly: "I know what you're thinking — is this a sex thing? Look, it is not not a sex thing." (One particularly disturbed critic published their writeup under the headline, "Cats Review: Nearly As Obscene As The Human Centipede.")
But not all reviewers were wholly repulsed by the film's intense sensuality. Nigel Andrews, the Financial Times' chief movie critic, said that he left the movie feeling "almost dumbstruck," and gave it four stars. He did, however, write that he found Cats to be "quite worryingly erotic." The same day his review published, he announced he was stepping down after 46 years — presumably, because he came to the realization that he had seen enough.
While I trust the analysis of these celebrated critics, and thank them for their dedication, I'm still patiently awaiting the review for which I've been most excited. What say ye, furries?