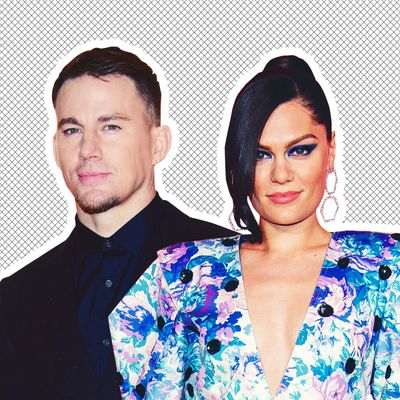 Though I will always remember the day Channing Tatum and Jenna Dewan, two good-looking actor-dancers who met while filming the modern classic Step Up, separated — April 2, presumably waiting one extra day to make sure nobody thought they were pulling a cruel prank — I cannot believe that was only last year. Even more shocking? That Tatum and Jessie J, whom he started taking on romantic mini golf dates after his split with Dewan, were only together for one year.
Tatum and J(?)'s relationship grew serious quickly, and it also grew … poetic. It was just this March that Tatum sent J the following stanza via Instagram DM, which she then posted to her stories:
"Yes I won't rest till I caress Fresh face Jess. I will finesse till Success. Never digress. Just progress. Bless."
J responded: "Hahahaha … Baaaarrs yeah."
In May, Tatum posted a nude photo of himself to Instagram, saying he'd lost a game of Jenga to his then-girlfriend, whom he referred to by her given name, Jessica Cornish. "Smh and fml," he added.
In August, Tatum released a statement to Instagram announcing he was leaving Instagram because he "[hadn't] felt very creative on social in the last couple years now." He made his triumphant return in late November, though he made no mention of now-ex Jessie J since, which tracks with reports that they "quietly" broke up about a month ago.
Also according to Us Weekly, Tatum and J are still really close and still good friends, which is a relief. Man. Time really flies.