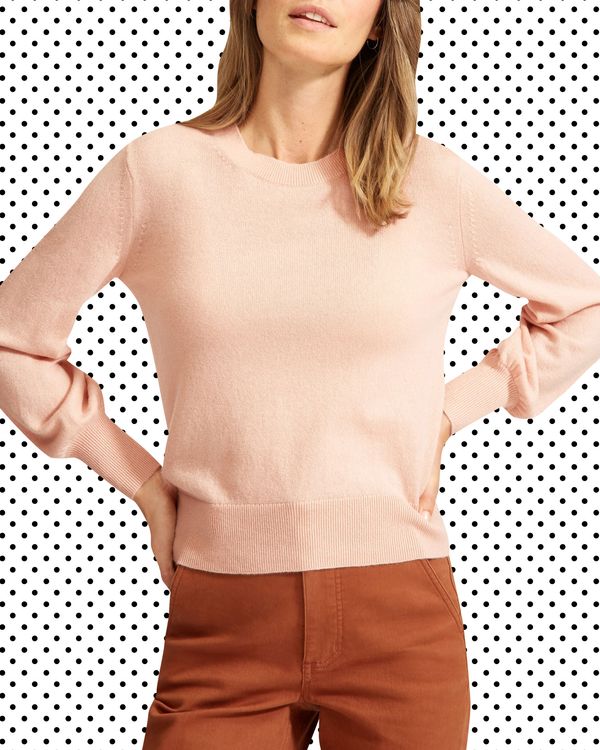 The Cut's Advent Calendar Gift Guide: Counting down to Christmas with one guaranteed-to-please gift idea every day.
A cashmere sweater is a no-brainer gift, but consider this your reminder that sometimes it's okay to just relax and take the easy route. After all, who doesn't love cashmere? At $120, this is a present that'll please your mom, your sister, your best friend, or, hell, even yourself.
Everlane has tons of cheap cashmere sweaters — basic crews, baby-blue boatnecks, and sweaters made from recycled cashmere — but we like this one because of the slightly puffy sleeves. They're different enough to make the sweater feel special, but not big enough to make a dramatic statement or push this out of the "good for anyone" gift category. And the fabric is made with 100 percent grade A cashmere, which means the fibers are long and the resulting sweater is less prone to pilling.
There are plenty of colors to choose from, including a heathered navy and a warm, autumnal brass, but we're really into the light rose. It's a color you can wear any time of year, but feels particularly pretty amid all the winter snow. So go ahead and get one — or several — for anyone on your holiday list who's got you truly stumped. I've never heard anyone complain about having too much cashmere.
Available in sizes XXS-XL.
If you buy something through our links, New York may earn an affiliate commission.