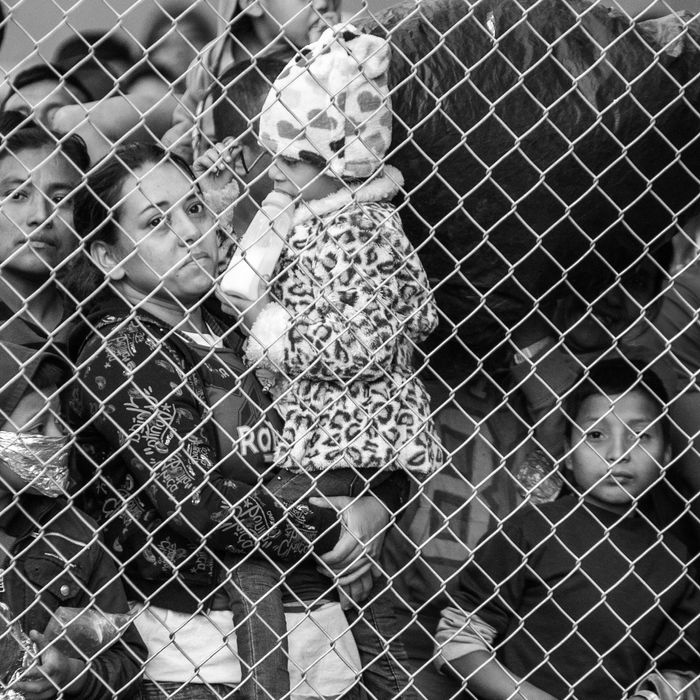 Photo: Sergio Flores/The Washington Post via Getty Im
With flu season in full swing, the immigration crisis at the U.S-Mexico border has become even more dire for migrant children. Three children in U.S. custody have recently died of easily preventable flu-related illnesses. There have lately been reports of shortages in food, diapers, and medicine for children and of overcrowded camps, and it's not as if customs officials aren't aware of what could be coming if nothing changes. Last winter, migrants reported horrible conditions, including freezing-cold holding cells. To add to these atrocities, Border Control has reportedly refused to let a group of physicians administer flu shots to migrant children in custody, even though some doctors have been passionately campaigning to provide this potentially lifesaving medical care.
On Monday, a group of around 60 licensed physicians and advocates arrived at the Chula Vista Border Patrol station in San Diego with 120 doses of the vaccine at the ready, the Guardian reports. But Customs and Border Patrol (CBP) barred them from entering the camp, claiming it wasn't "feasible" to administer this routine medical care to the migrants being held there.
"More people will die without the vaccine," Dr. Hannah Janeway, an emergency-medicine physician turned away by CBP, told the Guardian. "There's no doubt. They are being locked in cages in cold weather together, without any vaccination, in a year that is supposed to bring a horrible flu epidemic."
At least three children in U.S. custody — ages 2, 6, and 16 — have recently died of the flu. Earlier this month, ProPublica obtained a video that shows Border Patrol officers in McAllen, Texas, holding 16-year-old Carlos Vasquez in a cell for quarantine after he was diagnosed with a serious case of the flu and leaving him alone rather than getting him medical attention. In the morning, he was dead. CBP called the death "tragic" but hasn't claimed responsibility or admitted its response could have been better. The video shows Vasquez writhing on a bench in his cell for 25 minutes, completely alone.
Now that influenza is in the air, it doesn't help matters that children and adults are being held for long periods of time despite the government's assertion that they are generally in custody for no longer than 72 hours. A CBP spokesperson said in an email to the Guardian on Tuesday, "Every effort I made to hold detainees for a minimum amount of time." Lawyers representing migrant children have asserted that, in fact, imprisonment for more than 72 hours is common in certain detention centers, with some people being held for several weeks.
This isn't the first time medical professionals have attempted to intervene: In November, a group of doctors who've been advocating for child vaccination at the border for months offered to set up a free pilot clinic, but CBP refused, claiming that would entail logistical challenges.
By negligence and by design, the government is damaging the lives of children and maximizing the crises that led them away from their homes and into cages on our border in the first place. This alleged practice of withholding vaccines from children is very much in keeping with a U.S. government that has overseen mass family separation at the border and is targeting the beneficiaries of DACA.