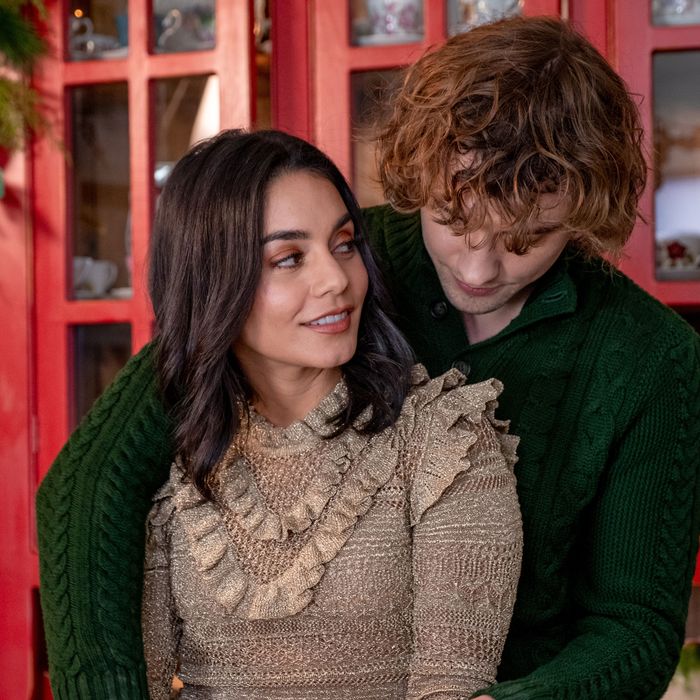 Photo: Brooke Palmer/Netflix
Revisiting Love Actually is an important tradition for me and many others during the holiday season. It is, after all, the best and most perfect Christmas film of all time — blessing us with such iconic holiday moments as Emma Thompson sobbing to Joni Mitchell, Andrew Lincoln's Sharpied declaration of love, and Alan Rickman being generally irritated for two hours.
This, of course, is not a universal opinion. Many area Scrooges hate Love Actually and every year one of them reminds us of this fact with a new, unapologetic op-ed.
So to them, I say: how sad for you. But for all of us — haters and Love Actually–heads alike — there are a handful of delightful new additions to the Christmas-movie pantheon that I'd be sad for you to miss because you're rewatching Love Actually. Of the overwhelming 91 new Christmas films coming to television and streaming this holiday season, many of them feature the essential elements of a good Christmas rom-com: simple hunks, weather-related meet-cutes, and former Disney Channel starlets. Here are some of the best (light spoilers to follow):
Let It Snow — Netflix
Well, here she is, the best Christmas movie of the year. Let It Snow is a rom-com based on a book by YA giants John Green, Maureen Johnson, and Lauren Myracle. It tells three parallel love stories that unfold during a snowstorm, one of which is a queer romance with an actual happy ending. There are multiple Harry Potter and the Goblet of Fire references, a teacup pig, and Joan Cusack as a wise, tinfoil-covered truck driver.
Christmas at the Plaza —Hallmark
I was fortunate enough to meet the male lead of this film at the Plaza Hotel where Hallmark screened this movie last month; he was extremely handsome and hardly said a word, which is more or less like his role in the movie. This is a superb addition to the Plaza Hotel–themed Christmas-movie canon (which also includes Home Alone 2 and Eloise at Christmastime) and a good watch if you like a smart, snappy female lead opposite a perfectly tanned handyman.
Holiday in the Wild — Netflix
Kristin Davis plays Kate, a rich housewife who goes on holiday to Zambia after her dusty husband leaves her. There, she meets Rob Lowe, a hot pilot who volunteers at an elephant sanctuary. What follows is a lot of sexual tension, sweetie baby elephants, and, blessedly, not one bleep of Toto's Africa.
Last Christmas — Universal
Cut staff reviews for Last Christmas are mixed. Most of us admitted to laughing — even to crying — but overall we weren't sure if we hated this movie or loved it. It did bring up interesting questions though, namely around whether or not you would jump Henry Golding's dead bones. Most of us agreed we would, but in the spirit of safety, my colleague Allison Davis pointed out that the rule of Twilight is such that "supernatural beings MIGHT surprise knock you up. Don't get all 'It's safe to raw dog a ghost!'"
The Knight Before Christmas — Netflix
Vanessa Hudgens shines as Brooke Winters in this Christmas ripoff of Kate & Leopold. I also love the dimpled dumdum who plays Sir Cole, a 14th-century knight she takes in after hitting him with her car in a snowstorm.
A Christmas Winter Song — Lifetime
Renaissance woman Ashanti not only produced, but is also the heroine of this touching Christmas story full of music and random acts of kindness. She plays Clio, who befriends a homeless musician and helps him reconnect with his estranged daughter.
Same Time, Next Christmas — ABC
Lea Michele bumps into her childhood crush while on a solo vacation in Hawaii over Christmas. He's grown up to be the hottest man ever, but things get messy when her boring finance bro of a boyfriend turns up. The trailer is set to Lea Michele's own original song "Christmas in New York."
Ghosting: The Spirit of Christmas — Freeform
This spooky Christmas number involves the ghost of The Bold Type's Aisha Dee coming back from the dead after she dies in a car crash. The title is a two-for-one: When she stops texting a guy she went on a date with just before her death, he accuses her of ghosting him. Genius concept!
A Christmas Prince: The Royal Baby — Netflix 
A charming sequel to the 2017 original in which a blogger named Amber weds her former interviewee, a prince. And because this franchise mirrors Meghan Markle's actual life, Amber is expecting a li'l royal as she navigates her new life. Diplomatic tension with a neighboring kingdom introduces some problematic Orientalist elements, but other than that it's a simple, made-for-TV watch.
Write Before Christmas — Lifetime
In this One Tree Hill reunion, Chad Michael Murray and his crater-size dimples co-star in a story about a recently single woman (Torrey Devitto) who decides to send unsolicited Christmas cards to various important people in her life. Drama ensues.