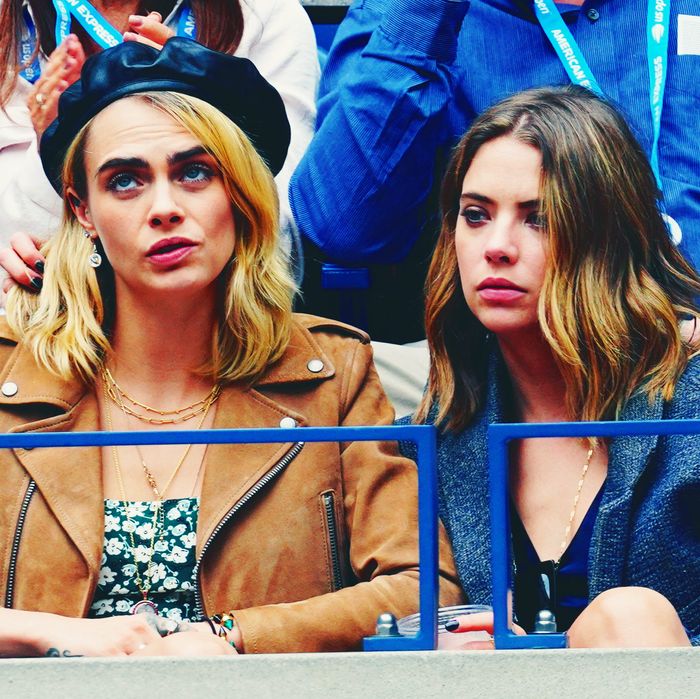 Photo: Gotham/Gotham/GC Images
On Monday night, Cara Delevingne sent young (and some not-that-young) queer women into a panic with a tweet reading simply: "Me and Ashley broke up." The tweet was deleted 20 minutes later, but by then, the damage was done, and the gay internet was losing its mind. Was love dead? Would a young, out, celesbian couple ever pass the 18-month mark? What will their tattoo coverups be? What is going to happen to their sex bench now?
Fans soon theorized that Cara Delevingne's Twitter was hacked, which has become a convenient excuse for celebrities who tweet (or Instagram DM) something embarrassing or salacious. In this case, though, the explanation seems plausible, as the breakup announcement was followed by a number of bizarre tweets, including claims that Delevingne was "turning straight" and "giving away 1000 free iPhone 11 Pro's."
Then, on Tuesday, Ashley Benson officially and mercifully ended breakup speculation, responding to a commenter's plea. "Did you break up with cara?" an account called chiza_chica_bylkita asked below a photo series of Benson with friends in Berlin. "Nope," replied Benson. This is reassuring, if not bulletproof, so I checked to see what some of the wildly speculative lesbian-celeb-gossip forums had to say, but unfortunately, all the Carashley threads were recently shut down due to infighting between Delevingne stans and Benson stans over which of them deserves the other less.