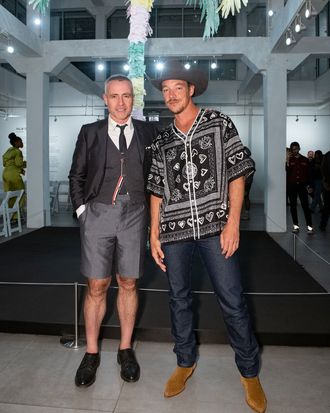 Photo: Madison Voelkel/BFA.com/Courtesy of Cultural Counsel
It wouldn't be a proper Art Basel in Miami Beach without Diplo, and the illustrious DJ finally made an appearance on Thursday night at the unveiling of fashion designer Thom Browne's first public sculpture in the Design District.
Diplo wore a rainbow diamond chain around his neck, and was tanned from a recent trip to Hawaii with his sons, followed by a stop in French Polynesia, and then Tahiti, where he took a moment to sun his nether region. This is why he was late to the art fair, he explained, which opened to collectors and insiders on Tuesday. "I'm going to buy something, but I think I missed the day you buy stuff," he told the Cut. He wasn't stressed, though. "You can also just go as a poor person and look at everything, then research it, and then buy it a little bit later for a good price," he added.
What kind of art is Diplo in the market for? Well, he saw some "really cool stuff," like a "really cool" Korean artist, whose name we didn't catch. He's also interested in buying a mirror by the artist Anish Kapoor, whose "stuff" he also finds "really cool." But sadly, Diplo "[doesn't] have enough wall space" in his home for a Kapoor piece right now.
Diplo does, however, seem to have room for a life-size palm tree in his life. Designed by Thom Browne, the piece, titled, "Palm Tree 1," is 21 vertical feet of Thom Browne seersucker scraps, which the designer describes as his "preppy interpretation of the American dream."
"Is this for sale?" Diplo asked, pointing at the fancy plant. (It is.) "Oh, yeah. Then I'll buy it," he said without hesitation. "I'll buy two if you got 'em."