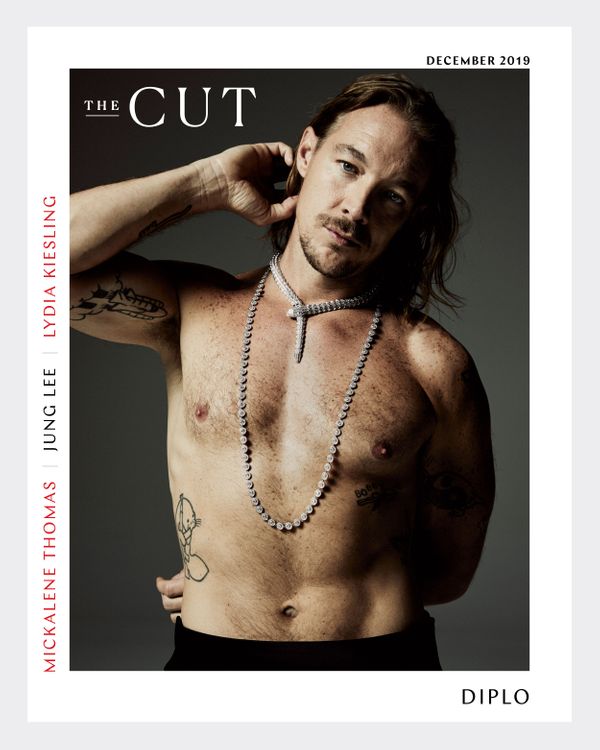 Shorter necklace:
Bulgari
, price upon request at 1-800-BVLGARI. Longer necklace:
Tiffany & Co.
, $165,000, at
tiffany.com
.
Helmut Lang
pants, $318, at
saksfiftheavenue.com
.
Photo: Erik Tanner
As a world-renowned DJ with legions of fans, he's Diplo. As a full-time father and friend, he's Wes. Whatever you call him, he's routinely winning hearts online with his face masking and thirst trapping. The Florida native spends most of his time on the go, bouncing between planes, meetings, and shows. Between all that, he took a small break to pose as the Cut's December cover star in a photo spread shot by Erik Tanner.
In the cinematic cover shot, Diplo gazes into the camera, lightly brushing back his long locks. Tanner explained that he wanted to show a side to Diplo that defied expectations. "The goal was a series of images that are sort of lasting," he said. "When we see them 20 years from now, perhaps they'll reveal something essential about who Wes was at this moment."
In keeping with that sense of timelessness, the wardrobe was pared down — a stark contrast to Diplo's typically elaborate looks. "Diplo is so stylish in his own day-to-day, most recently rocking a western rodeo look," said stylist Rebecca Ramsey. "We wanted to elevate this shoot by stripping it back to tailoring and diamonds." In the final look, he wore black high-waisted Helmut Lang tuxedo-pants and layered diamond necklaces, including a 40-inch chain by Tiffany & Co. and the Serpenti necklace by Bulgari. Below, check out behind-the-scenes photos from on set.