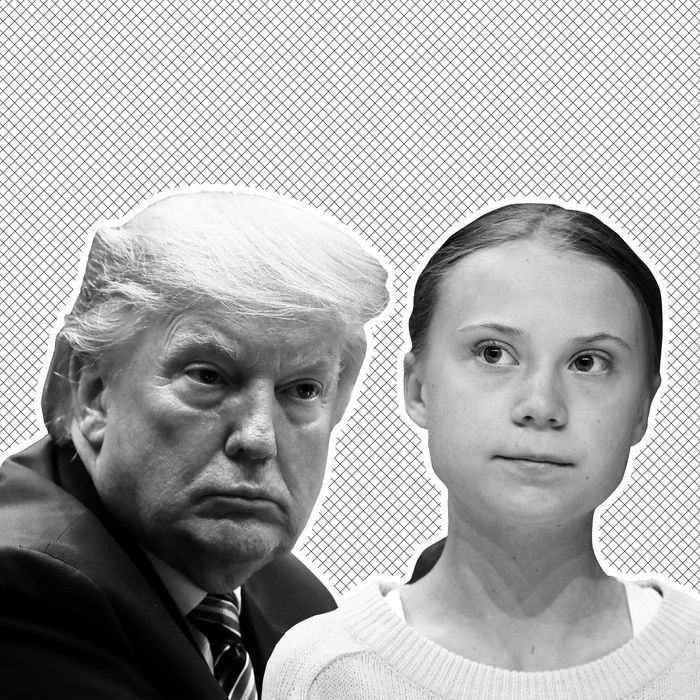 Donald Trump and Greta Thunberg.
Photo: Getty Images
On Wednesday, Time magazine named Swedish climate activist Greta Thunberg, 16, their Person of the Year, noting that she "represents a broader generational shift… where young people are demanding change urgently." This news did not sit well with President Donald Trump, 73, who expressed his displeasure in his usual way, by angrily tweeting.
"So ridiculous," the president wrote in response to a congratulatory tweet to Thunberg. "Greta must work on her Anger Management problem, then go to a good old fashioned movie with a friend! Chill Greta, Chill!"
Shortly after Trump's tweet, Thunberg changed her Twitter bio to: "A teenager working on her anger management problem. Currently chilling and watching a good old fashioned movie with a friend."
At this point, Thunberg is used to unhinged adults snarking at her, a teen, online — especially rabid climate-change deniers angered by her environmental activism. Back in August, her transatlantic, carbon-neutral sailing trip to attend U.N. climate talks in New York appeared to send some adults into fits of rage. Insurance tycoon Arron Banks, for example, implied in a tweet that terrible accident would befall Thunberg (he later emphasized that it was just a "joke"), and conservative radio host Julia Hartley-Brewer tweeted, "Hi Greta, I've just booked some long haul flights for my family to enjoy some winter sun on the beach this Christmas. Level of guilt being felt: 0%."
Trump, who has previously called climate change a "hoax," has tweeted disparagingly about Thunberg's activism before. Following her impassioned speech at the U.N.'s Climate Action Summit, the president retweeted a tweet from user @Opinion8dKellie, who had shared a video of Thunberg's speech with the caption: "What an actress! I won't be held hostage by someone who just got a learner's permit. Sorry kiddo!"
"Keep up the great work Kellie!" Trump wrote.
Perhaps jealousy inspired Trump's angry tweet about Thunberg's cover. He has been on the cover of Time several times, and was named the magazine's Person of the Year in 2016, but it seems that wasn't enough. In 2017, the Washington Post reported that Trump had a fake Time magazine cover — dated March 1, 2009 — of himself framed and displayed on the walls of several of his golf clubs. Time asked that he take down the fake covers.
But old habits die hard, it seems: Hours after Trump's petulant tweet about Thunberg, his reelection campaign tweeted an edited version of the Time cover, with Trump's head on Thunberg's body.
This latest meltdown comes a week after conservatives — including Vice-President Mike Pence and First Lady Melania Trump — chastised constitutional scholar Pamela Karlan for making a joke about the Trumps' 13-year-old son, Barron, during her testimony in the impeachment hearings, arguing that it was mean and inappropriate to target a young child on the public stage.
This post has been updated with the response from Trump's campaign.