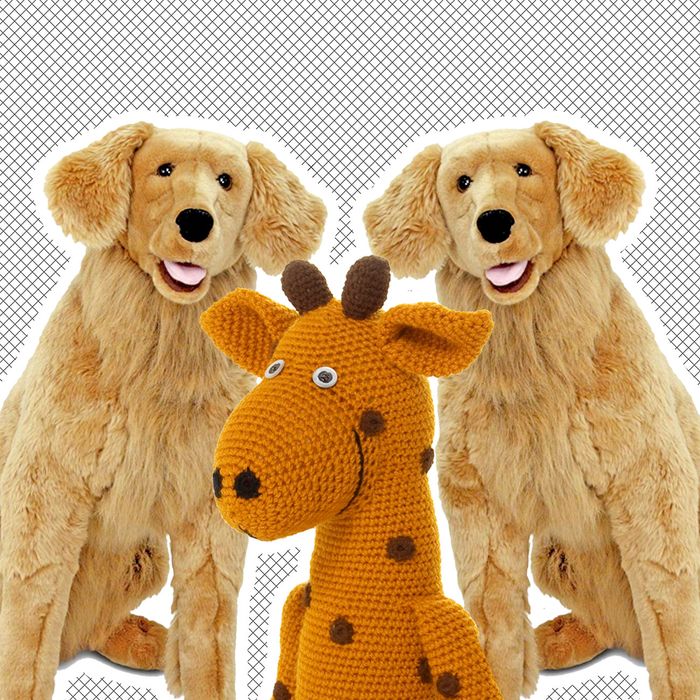 The Man apparently doesn't deem these types of toys chic enough for East Hampton sidewalks.
Photo: Getty Images, Amazon
High drama is roiling the Hamptons: A store owner has been ticketed for placing two large stuffed animals outside her store. Apparently plush golden retrievers don't meet the exacting standards enforced by local "taste police" — nor, for that matter, do plush giraffes. And really, can you imagine? Here you are, an upstanding member of a storied beach community, scrambling to provide les enfants with the luxury toys they so desperately need, and said community has the gall to punish you with a code violation? Just because you've decorated your doorstep with life-size dog dolls?
"I should be able to put a dog in front of my store," aggrieved shop owner Colleen Moeller scoffed to the East Hampton Star, adding: "There's a need for a baby store here. And I'm here for a reason. I'm going to make a difference." If only the village would let her!
Local code bars businesses from placing "signs or other advertising structures" intended "to attract the attention of the public" on display outside their establishments. Moeller received her first citation over the summer, when she stationed a stuffed giraffe outside her toy store, Petit Blue.
"In the summer, you cannot see if the store is open or closed because it's so bright," she told the Star. You need a big soft boy to beckon the masses! And in the off-season, you might even require two of them, just to let the people know you're still there and ready to serve them. Last month, Moeller placed the twin retriever toys outside, absolutely intending to attract the attention of passersby. Quickly, the long arm of the law slapped both her and her landlord with summonses.
Obviously, Moeller plans to fight this injustice in court. She contested the summons at a hearing on Monday, and her trial (!) will begin on January 13.
"They're trying to crush her spirit, and that's just wrong," Moeller's attorney, Daniel Rodgers, told the Star. "The taste police need to understand there are limits."