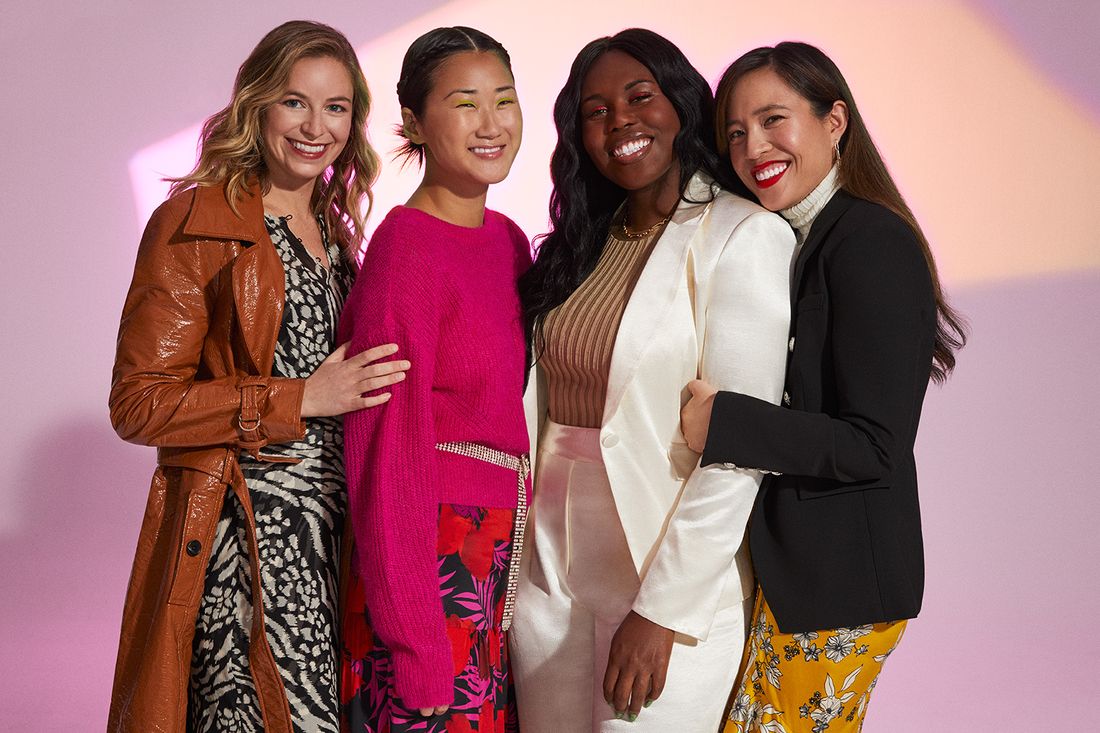 In a perfect world, there would always be a cushy two-hour window before every social event where you want to look good — time to take a relaxing shower, leisurely put on a fresh face, and change into an all-new look matched perfectly to the occasion. But especially once the holidays ramp up, most of the time we're running from work to drinks to whatever other thing. Or we're squeezing in a desperately needed manicure or a quick dinner before an event. Because dressing up often means planning your day down to the minute, we came up with four day-to-night looks that'll save you brain power, stress, and arm strength from having to lug a full outfit change around all day. Modeled by a few members of our own team, these Veronica Beard looks will be popping up in our office all holiday season long.
Have a Color Party
Looking "festive" doesn't have to fall into a traditional holiday palette. Instead of forest greens or burgundys, brighten things up with bold, tropical-inspired hues like fuchsia and lime. (Tip: deep, saturated shades will feel especially seasonally appropriate.) In this look worn by Branded Content Editor Katie O'Donnell, a sweater and maxi skirt are uncontested daywear, but a surge of color brings things into celebration territory. To get away with this look in a creative (but still professional) environment, go for a soft, relaxed top; flowy skirt; and a tall, sturdy boot. Shift the balance after-hours by buckling up a rhinestone belt, swiping on citrus-colored eyeliner, and pulling your hair into a quick-and-dirty style with personality.
Suit Up
Suiting is a ridiculously easy way to take the guesswork out of looking sleek, impressive, and fashion-savvy. When you're torn between one that leans daytime or one that reads as evening wear, don't be afraid to choose the fancier one. The trick to pulling off a silky, ivory-colored statement-maker while the sun's out: pair just the power trousers with a more reserved top, like this ribbed tee worn by the Cut's Fashion Partnerships Editor Indya Brown. Keep the look clean with a minimal gold chain and (if your agenda allows) a fashion sneaker with some height. Come nighttime, let your hair down, smudge a pop of color on your eyes, and slip on your suit jacket.
Put a (Shiny) Coat on It
It's not a new idea to wear a dress with an interesting print to look stylish without too much fuss. But it's definitely a good idea. As demonstrated by midi-dress loyalist and Brand Marketing Manager Natalie Merin, this long-sleeved, easy-fitting style is comfortable for dashing to meetings, and its calf length keeps it professional. In the same way an abstract animal print adds cool sophistication to a simple dress silhouette, the texture of your outerwear can add "wow" factor. Here, a classic trench elevates the whole look thanks to its slick, high-shine glaze. When you've sent your last email, swap Chelsea boots for crystal-bedecked stiletto booties, and add sparkly hoops for full glitz.
Split the Difference
When you're caught in the middle in terms of an event's formality, just lean into that. Take direction from the Cut's Beauty Director, Kathleen Hou, by wearing more buttoned-up pieces up top, like this turtleneck-and-blazer combo. Rule of thumb: adjust your top accordingly, considering how much you'll want it to compensate for your chosen fun bottoms. Hou's satin-finish skirt is sweet enough for day, thanks to its floral print and sunny color, but it's also occasion-ready with eye-catching ruching and a fanciful ruffle hem. Before heading out, swap in metallic heels and tap on some glittery eyeshadow and red lipstick. Free your arms to fool anyone into thinking you didn't wear this outfit all day.
This is paid content produced for an advertiser by New York Stories. The editorial staff of The Cut did not play a role in its creation.