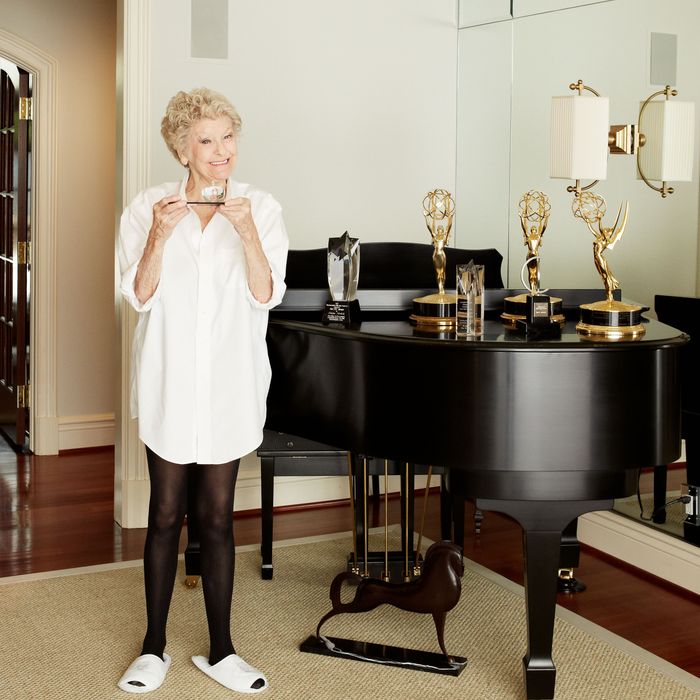 Photo: Amanda Friedman / Trunk Archive
Anna Wintour has her bob and sunglasses. Mark Zuckerberg has his Brunello Cucinelli hoodie. And the first thing many people remember about the late, great performer Elaine Stritch is that she chose to spend much of her long public life clad simply in a white men's shirt over black tights. "May your heaven be a booze-soaked, no-pants solo show at the Carlyle," eulogized Lena Dunham, a fan. Add a short blonde wig, maybe topped with the fisherman's or U.S. Navy–type white cap she favored since starring in Noël Coward's Sail Away, and — well, drag-queen imitators never had it so easy.
The case of the disappearing trousers was one of the more minor yet significant mysteries I tried solve while researching and writing Stritch's biography. Especially as old age encroached (when she sometimes grandly threw a fur coat and large sunglasses over the ensemble), why would someone expose herself potentially to bafflement and ridicule from the great majority of humans whose crotches are less tenuously covered? And why would someone who had once loved Dior, and splurged on Roberto Capucci dresses to cavort with Rock Hudson in Rome, and even knew how to sew, choose to renounce fashion?
Stritch grew up shopping at Saks on Lothrop Street in Detroit and borrowing beribboned frocks from her more conventional two older sisters. But she'd shown a tendency toward a kind of absent-minded exhibitionism as early as the 1940s, when she auditioned for the road company of Oklahoma! (then a landmark new show as seismic as Hamilton). "I have a habit of always getting dressed, combed and made up before putting on my skirt. I was so jittery that day that I went off without my skirt. I didn't even miss it until I got off the bus and was in front of [composer Richard Rodgers's] office," she told a reporter, without explaining how the episode resolved.
In the 1950s, while the underused standby for Ethel Merman in Call Me Madam, Stritch was issued a summons for stripping down to halter and shorts in Central Park; somehow the papers were alerted, and she spent a blissful afternoon posing atop balustrades and astride her bicycle, demonstrating youth, vigor and sex appeal.
But it was in the '60s and '70s that she first began routinely dispensing with bottoms, inspired by the troubled but talented movie star Judy Garland — an occasional drinking buddy — in the famous "Get Happy" sequence in Summer Stock, according to her longtime hairdresser, Vincent Roppatte, and this seemed all business. "She used to steal my shirt all the time," remembered her boyfriend, Gary Pudney, then an advertising executive working on the General Foods account. "It would be the heels and the black stockings and I would get up and try to get dressed and my shirt would be missing for the office."
For Stritch, who cohabited informally several times before marrying at 48 (quite radically for someone from her Catholic, upper-middle-class, Midwestern background), and who became known as a fierce and demanding negotiator on her own behalf — appropriating a man's shirt, occasionally topped with a tie, was surely a demonstration of independence. It allowed her to hide a considerable bust and keep the focus on what she was saying, or singing, in her signature growling voice.
The clapped-on chapeaux, I think, was just because she didn't feel like dealing with her hair on some days, and who can't relate to that? (This was not the sort of headgear Stephen Sondheim was referring to with the wistful, post-JFK line "Does anyone still wear a hat?")
But the renunciation of pants? Pure vanity, according to her longtime bestie, the gossip columnist Liz Smith. "She appreciated her own long legs and she decided to show them off and you don't realize how far ahead of the time she was," Smith told me before she died. "Now it means nothing. But she shocked everybody. And she really made it work."
There was something else to this jazzy, protean uniform, too: a demonstration of Stritch's total dedication to her craft, her readiness to put on any costume, to dance (though dancing was far from her forte), to "drink" onstage, even when she was on the wagon. "I never wore a bra in rehearsal because it constricted me and I never thought about it," she said, ages before millennials gave underwire the slip.
Not getting completely dressed let Stritch do three things: Become the focus of surprised attention, focus her own attention on something other than what the heck to wear, and shift attention from her looks to her words and wit. It was a hat trick, and a neat trick.
Alexandra Jacobs is the author of STILL HERE: THE MADCAP, NERVY, SINGULAR LIFE OF ELAINE STRITCH, recently published by Farrar, Straus and Giroux.