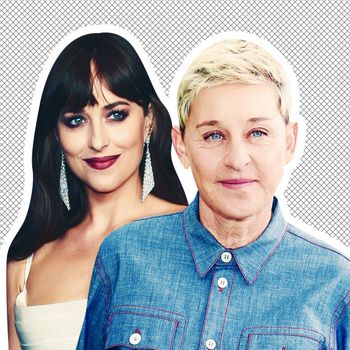 Dakota Johnson and Ellen DeGeneres.
Photo: Getty Images
As if we needed more emotional turmoil coming out of the holiday weekend, this story about Ellen DeGeneres not attending Dakota Johnson's 30th birthday party now potentially involves a certain former neocon president.
For those who have been offline or in food comas, Johnson went on Ellen this past Wednesday and tactfully endured a series of questions that essentially boiled down to one: Do you even like me? First, DeGeneres claimed Johnson didn't invite her to her birthday party, an assertion Johnson denied, saying, "You were invited! Last time I was on the show last year, you gave me a bunch of shit about not inviting you, but I didn't even know you wanted to be invited. I didn't even know you liked me!"
"I was invited? Why didn't I go?" asked DeGeneres, nonplussed. The camera then panned to one of the show's producers, who informed her, "You were out of town," and DeGeneres bantered right back, "Oh yeah, I had a thing." Johnson was almost out of the woods — but then she referred to Tig Notaro, who performed at her birthday party, as her favorite comedian, which DeGeneres seemed to take as a personal slight. The video of the polite altercation quickly went viral.
But that's just the saga's beginning. By Sunday, multiple outlets were reporting that the pressing "thing" that led DeGeneres out of town in the first place was in fact her infamous appearance in the stands at a Cowboys-Packers game, in which she and wife Portia De Rossi were seated next to palls George W. Bush and his wife Laura. The game was on October 7 in Texas, the party was on October 6 in California — DeGeneres could have made it to both, but it seems that Bush is really more of a buddy to her.
We know this because Ellen addressed her fans' overwhelming negative reaction to this game-day appearance by saying on her show, "Here's the thing. I'm friends with George Bush," a defense that mollified some people and further outraged others, given Bush's history of illegally invading another country, and starting a war that has been going on for 16 years now.
It's the blind item equivalent of eating turkey for a fifth day straight, but at least the talk-show hosts have finally tired of asking Dakota Johnson about her tooth gap.