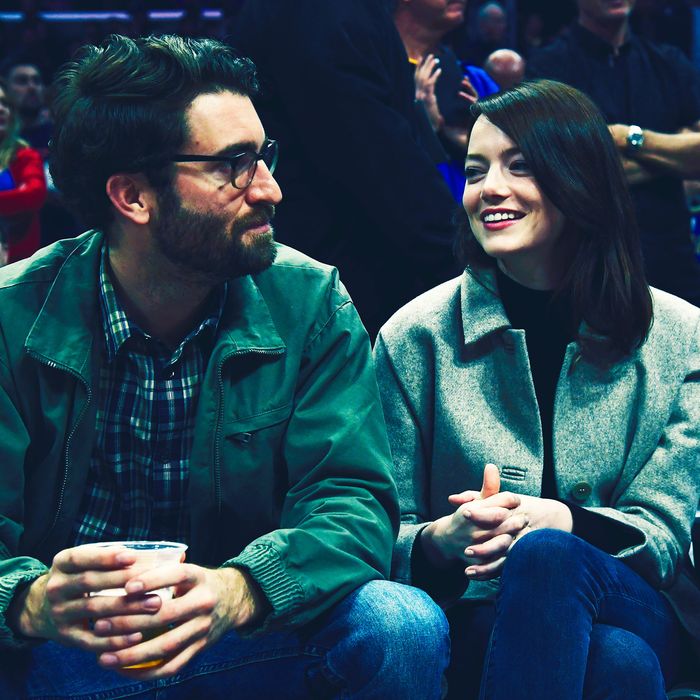 Photo: Kevork Djansezian/Getty Images
Emma Stone, actress who voiced a shoe in HBO's My Favorite Shapes by Julio Torres (which I recommend), is engaged. The announcement came on Wednesday via an Instagram post from her new fiancée, Saturday Night Live writer and segment director Dave McCary.
Well, that is certainly nice, and we certainly love love. According to Us Weekly, the pair have been dating for about two years, since around June of 2017. They met when Emma Stone hosted Saturday Night Live, and I'm sure their match gives hope to "Dave McCary" types everywhere, which I don't mean in a particularly rude way, and I'm sure you understand. And, of course, the engagement has come right around the holidays. You have to imagine they are both very happy, enjoying their romance in the city of holiday love (New York City).
I can only imagine what people are saying in their group chats about the engagement announcement this morning. "Her skin and teeth looked so good in the announcement photo," maybe. "That guy seems like he's probably pretty nice." "Huh. Good for her." "Thirty-one is a pretty good age to get engaged. It's at least not younger, which would make me feel worse, as someone who is older than 31 and not currently engaged. But I can live with 31." "I do really wish I had her face skin, ha-ha, lol, not to be weird ha-ha."
Good career, good skin, nice fiancée, probably some pretty good friends, and you have to imagine enough money to be comfortable. Not bad. I'm happy for her.