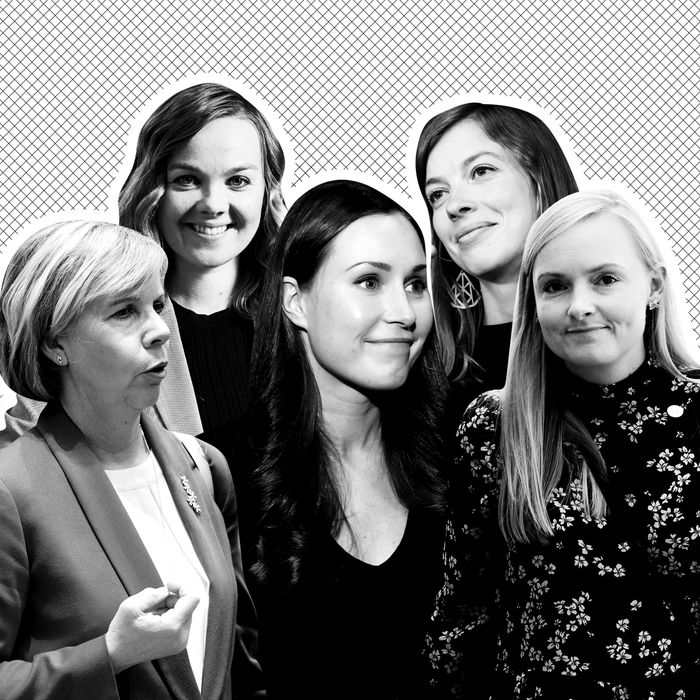 It can feel oddly dissonant to celebrate historic "firsts" — the first female director to win a big award, the first woman to compete in a political race, the first all-woman spacewalk. It's undeniably powerful to witness a woman doing something she could previously only dream of, but it's 2019; often, the part of me thinking, Come on, people, it seriously took this long?, is louder than the part celebrating. And "first" can be a meretricious metric for judging progress: Recall that Sarah Palin was the first female governor of Alaska, for example. One woman achieving a "first" is not necessarily synonymous with achieving equality for all.
Cut to Sanna Marin, set to be the world's youngest prime minister after being elected by fellow lawmakers in Finland. Marin, 34, will lead the country's coalition government, which consists of five parties, all of which are also helmed by women. People are justifiably celebrating this development: Alexander Stubb, Finland's prime minister from 2014 to 2015, tweeted that the all-women leadership coalition "shows that Finland is a modern and progressive country," and indeed it probably does.
But I'm much more interested in how Marin herself talked about the significance of her win. Per the New York Times, Marin was astonishingly chill about the fact that she and the party leaders governing with her are all women: "I have not actually ever thought about my age or my gender," she reportedly said to Finnish national news. Instead, she said, "I think of the reasons I got into politics and those things for which we have won the trust of the electorate." Marin ran on a strong social-democracy platform, emphasizing in her campaign how the Finnish welfare state had helped her family while she was growing up.
A political-science professor in Helsinki told the Times the attention being paid to Marin's gender is "jarring" simply because women have held significant power in Finland since the 1980s. As she put it, "Nobody has been calling me when there are young male party leaders." The country elected its first female prime minister in 2003. What's much more representative of a shift, she and other experts quoted in the Times said, was the age of the coalition leaders: All but one of the five women are under 34, which signals a desire to put younger people in positions of power.
It must be nice not to live in a place where you don't have to cling to your feminist "firsts," because you've actually come close to achieving gender parity — women make up 47 percent of Finland's parliament. Marin's reaction is a reminder that we may one day actually get to have a woman in the highest office and in leadership positions throughout our government, and the result won't be breathless coverage of how miraculous it is that they got there. That, yes, there will be a first, but then another and another.