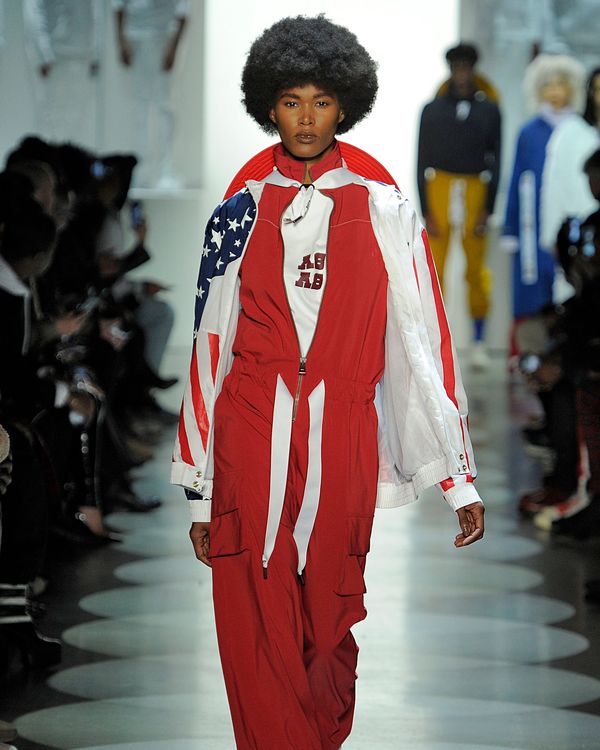 Pyér Moss by Kerby Jean–Raymond, ensemble, cotton, polyester, rubber, metal, fall 2018, USA. Gift of Pyér Moss. Photo credit: Pyér Moss shot by Maria Valentino.
Photo: Courtesy of Pyer Moss shot by Maria Valentino
While on my way to the FIT Museum to see its new exhibition, Power Mode: The Force of Fashion, I caught a hilarious glimpse of my reflection in the window of Madison Avenue Furs. The justification for my morning ensemble: practicality. At 9 a.m., my hoodie and combat boots had been at the top of the clean pile and beside the stairs, respectively. Hunched over like a troll in the rain, I felt far from the "power looks" that I expected to see at the show — the kind championed by Michelle Obama and pioneered by Coco Chanel.
To my surprise, I was greeted at Power Mode by another reflection. The first display I saw was a far-more dignified (and far-more expensive) version of my own outfit. A black Off-White hoodie is mounted in a light box at the exhibition entrance. It serves as both a statement of purpose and amuse-bouche beckoning you into the dark gallery.
It's immediately clear that curator Emma McClendon is tackling a broader definition of power dressing than what might come to mind. The term is still linked in pop culture to the gray corporate uniforms prescribed in John T. Molloy's 1975 book Dress for Success and its 1977 counterpart Woman's Dress for Success. The woman's version opens, "This is the most important book ever written about women's clothes because it is based on scientific research, not on opinion," and then argues that to present as fashionable or feminine is to "dress for failure." No one told this to Jackie O. or Diana Vreeland, it seems. We have Molloy's wardrobe engineering to blame for decades of office drab and designers like Armani to thank for injecting fun into "successful" dressing.
"Putting on [Power Mode] at the cusp of a new decade and presidential election is very purposeful," McClendon explains. "We're grappling with questions about ourselves, our national identity, and what power means in society. At the core of that is our bodies and the messages we send with them."
If you're picturing Working Girl, know that such looks are in the minority. "Power is very much a relative term. It means different things to different people at different times," says McClendon. She frames the exhibition as a "curatorial experiment," organizing it in five sections that help to define the many facets of power: "Military," "Suits," "Status," "Sex," and "Resistance." Clearly, a central message of the show is that power manifests in many forms — as political dissidence and obedience, in public and in private — and that clothing assists in its actualization. While the categories make for a streamlined viewing experience, almost every piece fits into more than one. The carefully selected garments are in constant dialogue.
The show traces the modern history of power dressing, building visual bridges from petticoats to Balenciaga puffers and suffragette suiting to '60s Saint Laurent. While the pieces themselves are amazing — vintage Mugler, Dior, and Burberry; an 18th-century fur-lined cape and eight-inch fetish heels, to name a few — the sum of the show is greater than its parts. Most memorable are the clever juxtapositions. Gem-adorned 17th-century shoe buckles are compared to Gucci loafers, illustrating the enduring role of conspicuous consumption in matters of class. Inverted gender roles are invoked when Thom Browne's "shrunken" suit (sported by LeBron James during the NBA playoffs) stands beside an oversize Marc Jacobs suit, which Lady Gaga famously wore to an Elle Women in Hollywood event in 2018. The description quotes her: "I decided today I wanted to take the power back. Today I wear the pants." In the "Resistance" category, a 2016 MAGA cap faces off against a Women's March pink pussy hat. Between them, a cowboy hat by Haitian designer Kirby Jean-Raymond reads "AS USA AS U."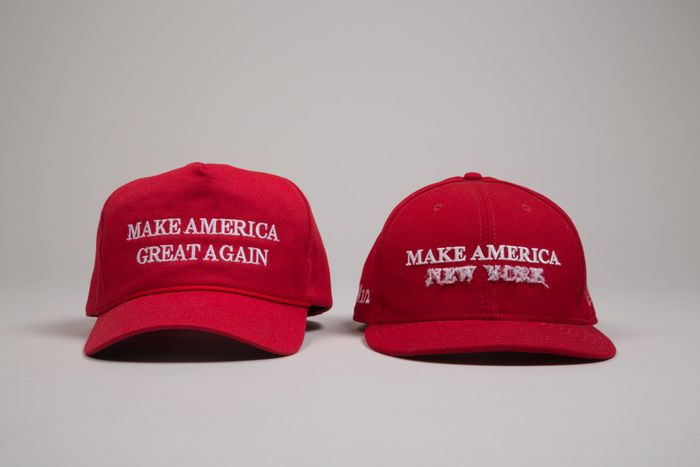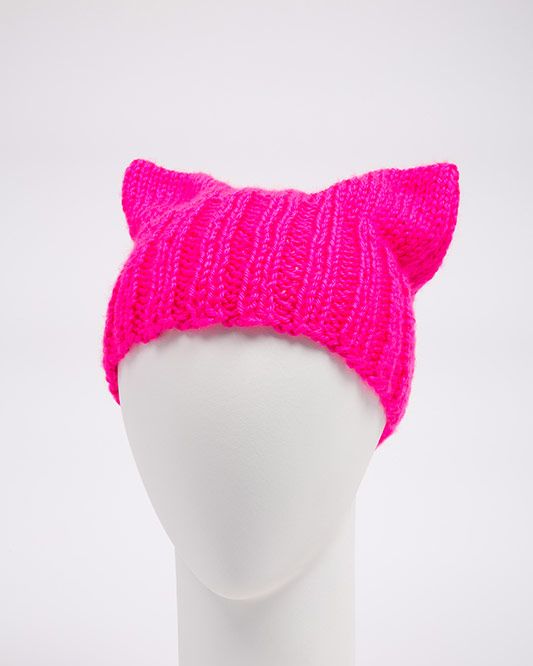 Power Mode does its best to illustrate power struggles, too. Dior's $860 "We Should All Be Feminists" shirt in "Resistance" represents the commodification and co-opting of political messages by luxury brands. In "Status," a gold chain from Karl Lagerfeld's 1991 hip-hop collection serves as a textbook example of cultural appropriation. And Versace's 1992 "Bondage" collection, which was both lambasted as "pure objectification" and celebrated as "Amazonian amour," is the climax of "Sex." Military uniforms and suits are as much a symbol of sacrificing individuality and surrendering to greater powers as they are power symbols themselves.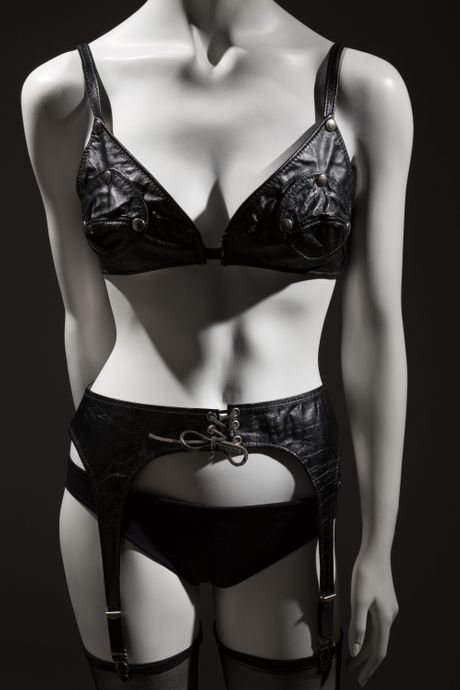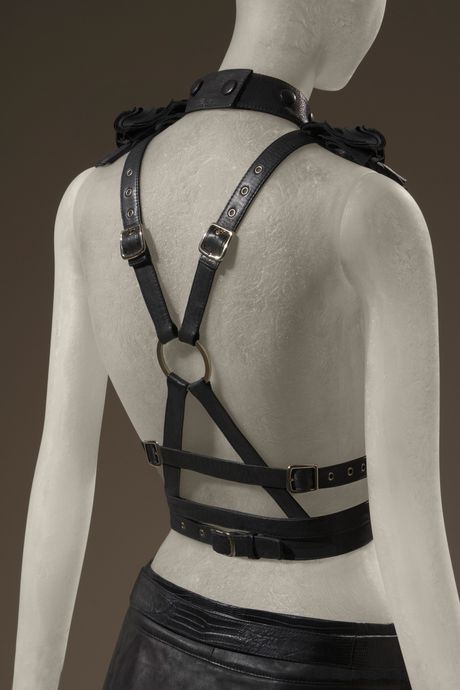 No garment is inherently authoritative. The power of clothing is situational and contingent on the eye of the beholder, not the wearer. The status "power" of the Vetements' DHL shirt on display, an exact copy of the workers' uniform, is predicated on the viewer's knowledge of the brand's ethos and price point. Garment descriptions draw attention to how the cultural coding of clothing shifts on different bodies. A "meaningless" hoodie on me was, in the case of Trayvon Martin, a justification for his murder — for the Black Lives Matter movement, it is a symbol of civic resistance — or in the case of Off-White, a statement of Virgil Abloh's value. McClendon proves that context is key.
Historically, there was greater cultural consensus about what garments signified power. In 2019, it's all across the board. Dressing for success, for better or worse, isn't as simple as following Molloy's — or any one person's — rules. In Silicon Valley, flip-flops can be as strong a statement of authority as a black turtleneck, and a "power suit" can mean Alexandria Ocasio-Cortez's white cape or a trendy boiler suit.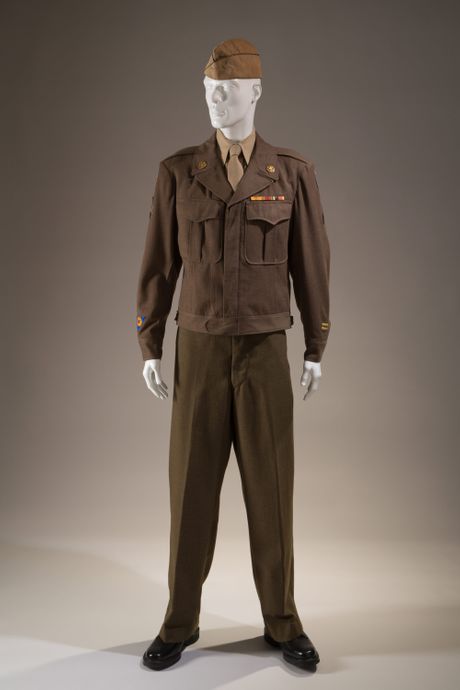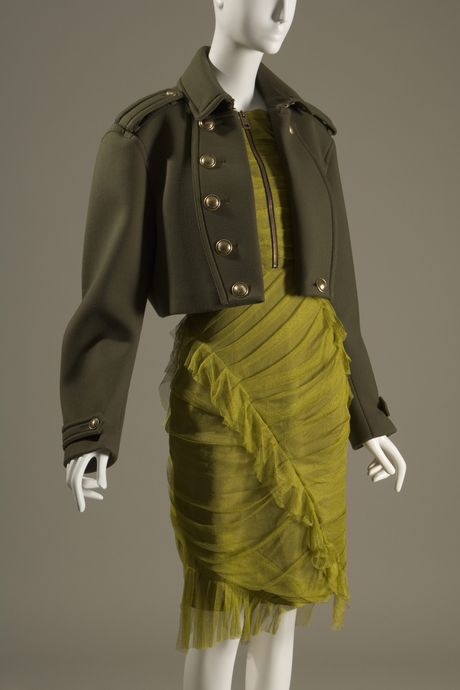 I left Power Mode feeling that the exhibition is itself a power move. Fashion can be all too easily dismissed as frivolous, but this show examines the social, political, and cultural power dynamics at play in the clothing we wear. "It's about combating the perception that fashion is superficial and surface level, that it doesn't matter," says McClendon. Visitors should be prepared to ask themselves a difficult question: How does your closet reflect who you have power over and who has power over you?
Keep scrolling for more images from Power Mode: The Force of Fashion, on display at the FIT Museum until May 9. The show is free and open to the public.