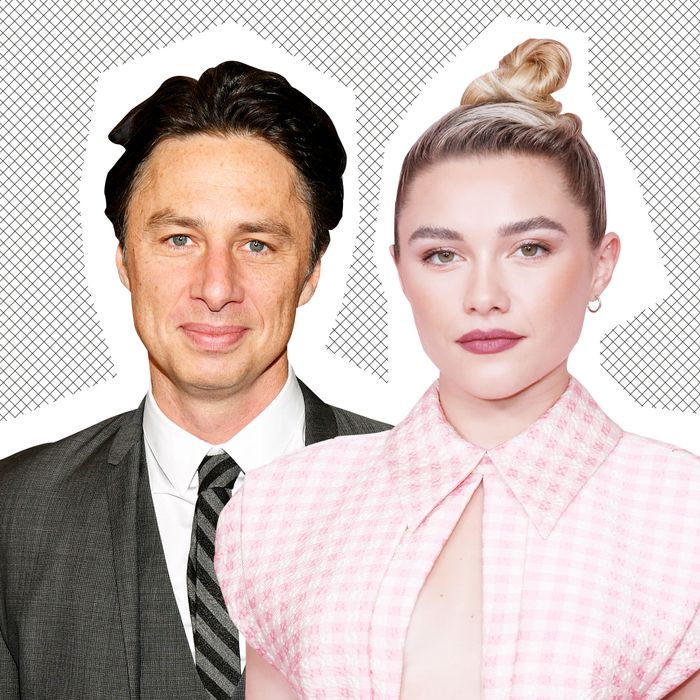 For the record, Florence Pugh is a fiercely talented and highly successful 23-year-old actor who is dating Zach Braff, and there is nothing wrong with that.
Some people on the internet disagree, however. On Saturday, the Little Women star posted on Instagram about grabbing food after a long trip, captioning an image of herself standing in front of a deli with, "First pit-stop, Matzo Ball soup #curingjetlag101." Braff commented on the post with a princess emoji, to which one of Pugh's followers replied, "You're 44 years old." Indeed, that is the number of years Braff has been in the world. The comment was clearly intended to point out the age discrepancy between him and his girlfriend, but Pugh quickly came to her boyfriend's defense, responding, "And he got it."
The two have been dating since at least April. In October, they shopped at a Hollywood Whole Foods together. In November, the pair was seen strolling through Soho holding hands. Both were wearing long coats and, as People reports, Braff left his "unzipped." Braff and Pugh both attended the Little Women premiere, though they were spotted separately.
Pugh is reportedly slated to star in Braff's upcoming film The Secret Ingredients of Rocket Cola. The plot of said film, written by Mike Vukadinovich and directed by Braff, focuses on twin brothers "with opposite personalities who are separated at a young age and go on to live drastically different lives," and eventually fall in love with the same woman, according to Collider.