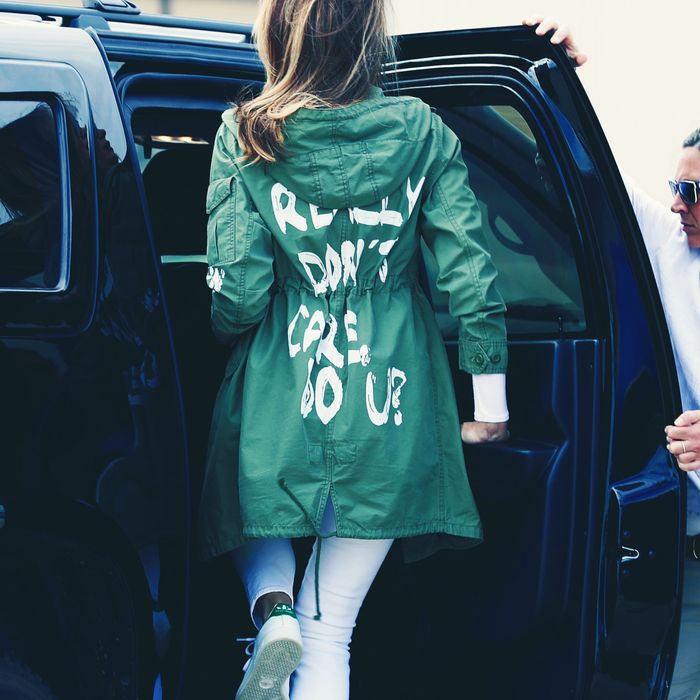 Melania Trump.
Photo: Chip Somodevilla/Getty Images
A new unauthorized biography of Melania Trump contains an intriguing theory regarding one of FLOTUS's weirdest and most tone-deaf moments: that army green Zara jacket. You know, the one with "I REALLY DON'T CARE, DO U?" emblazoned on the back, which Trump decided was appropriate to wear en route to a visit with 55 migrant children being detained without their parents in Texas.
In her book Free, Melania, CNN White House correspondent Kate Bennett reportedly offers a new explanation for the jacket, which provoked widespread outrage after Trump was photographed wearing it in June of 2018. Bennett argues that the sartorial choice wasn't meaningless or coincidental, which a spokesperson for Trump originally insisted in a statement, nor was it a pointed message intended for the liberal "fake news," which Donald Trump claimed shortly afterward. (Melania later echoed this explanation in an interview with ABC News, saying it was for "the people and the left-wing media that were criticizing me.") No, Bennett thinks instead that the intended target of this defiance was much, much closer to home — inside the White House, in fact.
"I believed, and still do, that the jacket was a facetious jab at Ivanka and her near-constant attempts to attach herself for positive administration talking points," Bennett writes, per the New York Times. According to her, the relationship between the First Lady and the First Daughter is "cordial, not close," and has been rankled by Ivanka Trump's extremely high-profile status as a nebulous "adviser" to her father. Meanwhile, Melania's presence has been largely reduced to posing next to the president at awkward holiday photo ops and to her operationally challenged anti-bullying campaign, "Be Best." Bennett writes that Melania was miffed by Ivanka's many international trips, which felt "too close for comfort for Melania, who thought Ivanka was invading her turf."
Bennett doesn't offer more clues as to whether Ivanka had any idea the jacket was supposed to be a rebuke of her, or whether she, like basically the rest of the world, was distracted by the insane context in which Melania decided to send the message. Perhaps FLOTUS could have been more direct with a strategic Instagram "like" of one of Ivanka's critics. Regardless, I hope that since this internal kerfuffle, someone has clued Melania into the fact that she doesn't have to be jealous of her step-daughter, not at all, since Ivanka doesn't actually do anything.